Shopify's ecommerce platform appeared with a clear goal: enabling site owners to focus on bringing in traffic through SEO and SEM and providing outstanding customer service. This is while the platform takes care of the rest: hosting, domain, checkout, shopping cart, payment options, etc.
There are tactics to enhance your website's SEO. However, selecting a few best practices according to Google Search Essentials can only influence how your Shopify store ranks.
Let's dive deeper into:
How Shopify SEO works
Shopify SEO tips and techniques to make your Shopify rank
Why choose Shopify eCommerce as an alternative
The Importance of SEO for Shopify's Success
Shopify is one of the leading ecommerce stores nowadays.

Based on the above Shopify usage statistics, the usage of this platform has increased significantly from 2017 up to 2023.
But how can you rank your Shopify store?
Take it from here:
"John, a Shopify store owner, is determined to attract customers to make his store into a global business. He's invested in paid ads, social media marketing, and blog content. Yet, his efforts haven't increased customer growth, leading to a puzzling situation of rising costs."
This scenario is common among Shopify store owners. And you may find yourself in a similar situation, too.
The key is Search Engine Optimization (SEO) to boost your store's visibility on search engines. This is a primary platform where people search for a wide range of products and services.
Organic and Paid Search Win
Numerous studies have proven that the traffic channels that convert the best come from search–paid and organic search clicks from Google bring in the most sales to your online store.
Why?
Because search results catch the user in the moment they are looking to buy, whereas social media campaigns like Facebook Ads target users based on their behavior but cannot predict the exact moment someone is ready to take action.
The Definition of Both Terms: Organic and Paid Search
Do you understand the distinction between paid and organic search engine results? The first thing you should do is optimize and improve your Shopify with a few adjustments. It's always best to keep things basic when it comes to strategy in Shopify optimization.
A website that is lighter and faster to load can help you rank higher in Google search results. Given that almost all internet encounters begin with a search, this is a step you can take to increase traffic to your site.
Organic Search for Shopify
You could be thinking that paid ads are the way to go at this point. But hold on a second. You haven't heard everything yet.
Organic search refers to search engine rankings that are unaffected by sponsored ads. Searchers believe that a company with high organic search results has a strong presence in the market and is aware of the industry's pulse. On the other hand, organic search results will not include advertisements and include query elements like maps, blogs, and structured data.
Paid Advertising for Shopify
Paid ads have the advantage of being at the top of the search engines, where most searchers' eyes are drawn initially. Because the font and style of the paid results almost always match that of the unpaid results, some users don't even realize they are ads and click without hesitation.
Paid results, often known as "pay per click" (PPC) advertising, can be customized to reach the specific people you want to convert. However, combining paid ads and SEO can do something in your favor, specifically on your online ranking.
SEO Basics for Shopify

Many Search Engine Optimizations recommended for blog posts, corporate websites, or local business sites can also be applied to form the foundation of your Shopify online store to attract relevant, organic traffic.
From technical SEO to On-page SEO and content marketing, you can make sure your website is well-ranked.
Here's what's definitely among the basics of good Search Engine Optimization:
1. Unique Title and Meta Description
Your Meta titles and Meta descriptions are unique and optimized. These are the two most essential Search Engine Optimization factors. They appear in search engine results and provide information to customers looking for products similar to yours.
When creating ideal meta titles and descriptions, remember these key tips:
Keep meta descriptions around 120 characters.
Maintain meta titles within the 50 to 60-character range.
Include long-tail variations.
Incorporate your target keyword.
Highlight your Unique Selling Proposition (USP).
Take note: customers are likely to click the link in the search results to visit your store if the page title and description are appealing.
2. High-Quality Content
You have unique content on every web page, including your home and product pages. This serves as your Shopify SEO guide to determine if your eCommerce store is at the top of the ranking.
Regarding SEO, Shopify frequently generates a significant problem, which is duplicate content. You avoid duplicate content or near-duplicate content across your Shopify sites. This is essential when having a site audit and determining which SEO basics hold you back from ranking on the first page.
Also, Shopify commonly generates duplicate content in various ways. These include duplicate product pages and duplicate collection pages, particularly through pagination.
3. Conducting Keyword Research
You respond to the different possible search intents when creating content. Answering queries or customers' wants and needs is part of SEO, and Shopify must apply this strategy.Look for target keywords that could lead you to drive more traffic to your store. More of, you bring in searchers at different stages of the buyer's journey.
4. Link Building
Just like any link building, Ecommerce involves the process of securing links from others to point back to your ecommerce platform. These links leading to your site are commonly referred to as "backlinks" or "inbound links." They signal to search engines, like Google, that other websites endorse your credibility.
The outcome of a strong backlink profile includes:
A boost in sales.
Enhanced credibility.
Increased traffic to your online store.
5. Utilizing SEO Apps & Tools
In terms of enhancing the SEO of your Shopify site, collaborating with a tool is often the most effective approach. Here are some tools that can help in SEO improvement:
Google Search Console. Use the Google Search Console to improve your site. Moreover, you want to pay special attention to internal linking and provide your Shopify site's content with a logical, well-organized structure that's both easily browsable and indexable.
Google Keyword Planner. This keyword research tool can help you discover high-impact keywords related to your products or services. Incorporating these keywords strategically can improve your search rankings.
Google PageSpeed Insights. The speed at which your Shopify store loads significantly impacts user experience. This tool can help you identify areas where you can enhance your website's speed.
Google Analytics. SEO audits are essential to identify issues that may be affecting your search rankings. Apps like Google Analytics are great for conducting comprehensive site audits. Additionally, resolves any SEO-related issues.
More Shopify apps assist you in focusing on the SEO issues worth fixing. This allows you to save time and effort while boosting your SEO. It ensures that pages are checked automatically and frequently.
Specialties about Shopify Optimization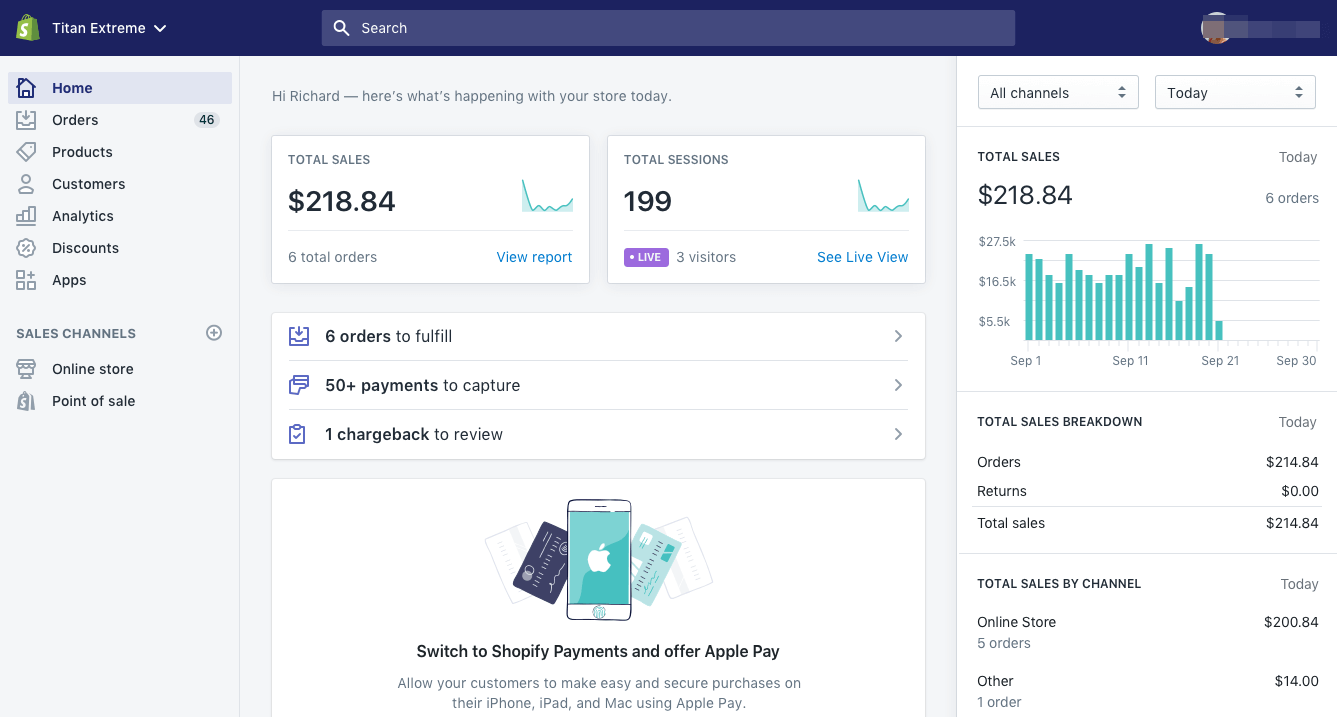 In order for your Shopify store to rank in search engines, you should definitely pay special attention to these particular issues the otherwise very well-prepared platform presents when it comes to SEO:
Site Structure and Canonicals
Ideally, on a Shopify site structure, you want to have one URL leading to a piece of content. Shopify site structure, however, by design comes with two that might look like:
<yourdomain.com>/collection/<collection name>/products/<product name>
<yourdomain.com>/products/<product name>
While Shopify resolves this by using a so-called "canonical" directive, you still force Google to process both URLs and then decide which one to select as the URL to be listed in the search.

And (important to know):
Canonicals are a recommendation you express to Google - no requirement. Google can still choose which version they prefer. We've seen sites trying to rank for a certain URL. And Google still picked another one, ignoring the canonical directive.
For Shopify SEO tips, make sure that both Google's crawler and users don't even see version 1 below the /collection/ directory and only see the shorter version. This should solve your problems in this case.Make sure to optimize your site structure by keeping it simple with SEO-friendly structured data. It's also ideal to follow Good URL structure design best practices.
Robots.txt
Many SEOs like to optimize crawl budget by using robots.txt directives. The file robots.txt is a file that sits below your domain.
For example, http://seoleverage.com/robots.txt is ours. This contains information crawlers can read and interpret. You could, for example, prohibit Google from crawling your checkout's URLs.
Shopify online store, by default, already has a series of directives in place. But do not allow to override them – your robots.txt is what it is.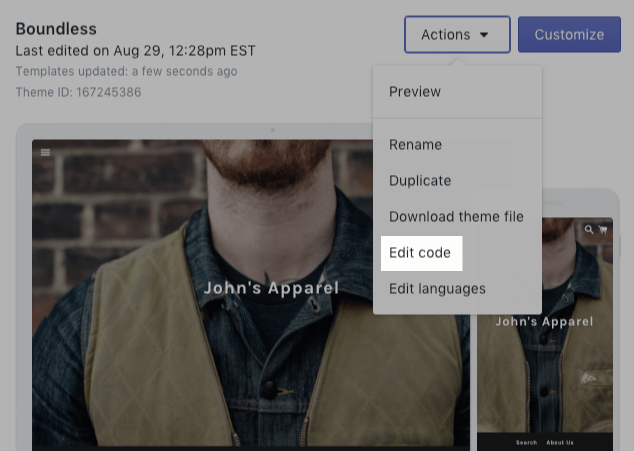 How to Edit the Shopify Robot.txt file
You can't directly update the robots.txt file in Shopify. However, you can tell Google crawlers not to crawl one or more pages:
Go to Online Store > Themes in your Shopify admin.
After you've found the theme you wish to change, go to Actions > Edit code.
To open the theme .liquid layout file, double-click it.
So, when you'd like to avoid Google indexing content, you need to use noindex directives within your theme file:
Noindex
A meta tag noindex is the only way to communicate to Google you don't want to see a certain URL indexed in search engine results. Robots.txt can't be modified (and also only worked if placed before Google's first visit to the site).
So, wherever you, for some reason, would like to remove a URL from Google search results or make sure it doesn't get indexed, you need to edit the theme.liquid file as described here and add 3 lines of code.
If you have content that hasn't been indexed, you should address this issue differently. Instead, check the URL Inspection tool to know the reasons behind your page not getting indexed.
Speed Optimization
Shopify is very good at speed - here's a speed check I've just executed on a fresh Shopify site with a few hundred products. The speed is amazing - much better than any WooCommerce site I've ever seen (and don't get me started on Magento's performance):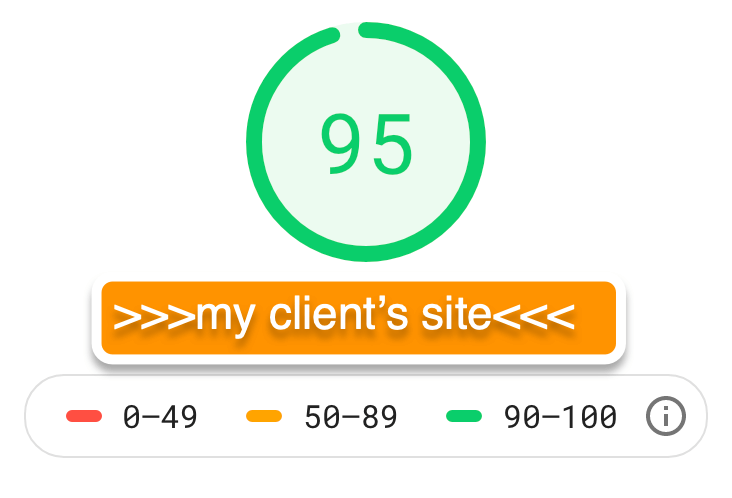 You can use Google page speed insights to analyze your Shopify webpage content. This also helps to measure your site's full user experience to improve your site's performance.
What Does Speed Optimization Shopify Have?
One of the best perks about Shopify is that your store comes with certain built-in speed optimizations. You'll notice that the following performance features will already be in place after building a new site: Leverage Browser Caching & Utilize A CDN.
Image Optimization
You will want to make sure, though, that you optimize your product image on your product pages as much as you can for smaller image file sizes. With such, you can use image optimizer sites for image compression, like tinypng.com, before uploading them to Shopify.
Remember that a page with huge, un-optimized images without an image ALT Text can bring your rankings down. So broader in optimizing your Images.
SEO Audit

One thing I recommend for all e-commerce business store owners is to see ecommerce SEO within a wider range. Of course, you should get an ecommerce site audit done when starting out and build a solid foundation that's optimized for both search engines and users coming to visit your store.
Additional Facts: Consider Product Collections/ Categories Ranking
Certainly, you'd like to see your product categories/collections ranking in Google search engine ranking – ideally, even see your products ranking for specific searches. However, your online store might change – the products might change, you might be using different brands in the future, etc.
Why not focus on building up valuable content for your potential buyers? There's a good chance your buyers are researching a bit before executing their purchase. They might come to your site organically via Google even before looking for a certain product you sell to consume your content.
Why Shopify Ecommerce Is The Best Alternative For Your Online Shop?

When you're looking to set up an online shop, you'll quickly realize that there are a lot of different ecommerce platforms to choose from. 
Shopify is one of the most popular e-commerce systems for online retailers to employ when starting their enterprises. It makes things quick and easy. But you'll still need to do some SEO legwork if you would like your store to rank well in search engine results.
These are the main reasons why you need it.
1. Highly Flexible Platform
One of Shopify's main advantages is its flexibility. Not only do you also have a framework on which to establish online security measures to protect payments, but you would also have access to a wide range of features to help you grow your business.
You can choose and pick which ones are acceptable and beneficial for your company.
2. Easy Navigation: Quick to Set up
Shopify is a good alternative if you don't have a history in software development, as it is a complete "plug-and-play" solution.
First impressions matter. These themes help you create a site that looks amazing while also establishing trust and credibility with your store's visitors and giving an exceptional user experience.
3. Multi-Channel Selling: Cross Over Social Media

Shopify has made it simple to sell through various channels and platforms, including Facebook, via the Shopify Facebook App. They also provide the ability to trade on other sites, such as Twitter and Pinterest.
All of this is necessary to assist internet retailers in reaching a larger audience and increasing sales.
4. Take Advantage of Marketing & SEO Tools
The efficiency of SEO on Shopify is a combination of the software's flexibility and the individual working on the site's marketing and SEO experience. And because the apps and tools are all intended for and connected with Shopify, they're simple to install.
Besides, it's good for running without any compatibility difficulties. Shopify includes excellent SEO features, including the ability to modify meta tags, products, and descriptions in the browser in an SEO-friendly manner.
Where To Go From Here?
We've covered quite a lot in this article:
Which are the foundations for good Shopify SEO optimization
Shopify handles site speed, but you still need to watch out for the images you use on your product page so as not to make your Shopify store site functionality slow down.
What particular issues the platform comes with might rather confuse search engines like Google and what to do about it.
To broaden your focus and not only try to rank products from your product page and collections from your menu items but to focus on your site performance optimization.
Progress requires knowing your status quo. One of the best practices and strategies to start taking your Shopify's SEO seriously is starting with a quick audit!
Apart from these Shopify SEO tips, you might want to know more, check out: Tips on how to increase sales with Shopify.