Do you get constant traffic in your Shopify store, yet your sales are still nowhere near your expectations?
Most Shopify store owners focus on getting traffic on their online store but tend to neglect one thing: how to "convert" a site visitor into an actual paying customer.
To do this, you need to implement different SEO for Shopify conversion optimization techniques to increase the percentage of website visitors that buy from you. It's basically the process of making your customers' buying journey faster, easier, and smoother so that you achieve your target sales per month.
Sounds interesting? Read up on the following search engine optimization strategies that you can use to increase the sales of your store. With this Shopify SEO guide, you effectively achieve a Shopify e Commerce site that converts online store visitors into actual paying customers.
SEO Optimization Shopify Conversion: Optimize your homepage
Keep things simple.
Are you aware that it takes two-tenths of a second for a potential customer to form an opinion about your online store website? It's hard to change their mind afterward, so you better make every millisecond count.
How can you make your online store look informative yet straightforward? Here are some SEO tips:
Avoid bombarding your customers with lots of texts and images.
Focus on having one large image that occupies the above the fold space. Examples of images you can feature are your bestsellers, current promotions, brand new collection, and new arrivals.
You can also opt for carousel images, but make all of them compelling since 9 out of 10 people will only see the first slide.
Make the copy clear and straight to the point.
Add a clear call to action on every image so that your customer knows what to do next.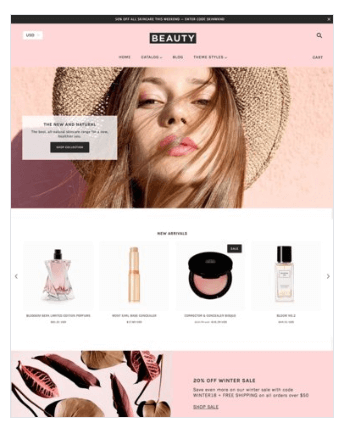 Put the spotlight on your purchase incentives.
Do you see those floating bars or popups on Shopify stores that feature discounts, coupon codes, and promos?
You can also do that for your own Shopify online store and get your customers excited to buy your products. A couple of Shopify apps you can use include the Welcome Header Bar and POWr Popup. You can even build your email list using the latter
Another Shopify apps you can use is Recent Sales Notification, which shows real-time purchases made by other customers at the bottom of your web pages. It gives your customers a sense of urgency as they watch stocks of their favorite products get sold one by one.
Add feedback and testimonials.
As much as 88% of customers use online reviews as a basis for their decision-making—pretty much the same level of trust they give to recommendations from their friends and family.
Adding reviews, badges, and testimonials to your online store homepage and product pages projects credibility, making it easier for your customers to trust you.
Shopify Conversion Optimization: To optimize your products
Use intelligent search.
If your Shopify store has a lot of products, implement search engine optimization techniques by making sure that the search bar is visible on your homepage so they can easily find what they need without going through numerous product categories.
Apps like Findify, Instant Search +, and Sigler Music provide predictive results on your search bar, helping your customers quickly find what they're looking for. They suggest products, categories, and related results as users are typing, even if there are spelling errors and alternate product names.
Organize your categories.
Dividing your products into too many categories can make navigation hard for your customers. Imagine how much they have to dig deep just to find the one product they're searching for.
So, when creating categories, have four to six broad categories that are further divided into subcategories in a dropdown menu.
Bundle similar products.
Instead of listing the same product with eight different colors over and over again, register it as one product with eight different options.
Not only is this easier for you as a store owner, but it also helps your customers choose which color, size, or style they prefer most.
Modify your 404 pages.
404 pages are often treated as dead ends. But if you want to optimize your Shopify conversion, use these 404 pages as an opportunity to feature your products.
Instead of using the dull old script found in most 404 pages, guide your customers to other parts of your online store website by adding links to your popular products and current promotions.
Embed your Instagram feed.
Research conducted by Bazaar Voice showed that 84% of millennial online shoppers get their purchases influenced by user-generated content.
That's why putting a shoppable Instagram feed on your website is a great way to feature user-generated content, and in turn, influence their buying decisions. You can also directly link these photos to your product pages.
Some of the apps you can use for this purpose are Springbot, Foursixty, and SocialPhotos.
SEO Optimization Shopify Conversion: Optimize your product pages
Make your product photos visually appealing.
Your product image can make or break a sale. In fact, two out of three customers say that the presence of a high-quality product photo is important in their purchasing decision—even more important than the actual product details and reviews.
So, here are some search engine optimization tips on how to get customers using your product images:
Use a simple background to put the focus on your product. Show your product from every angle so customers get the best idea of how it looks and feels.
Make your images zoomable, especially if your product has intricate details.
Add lifestyle shots that are relevant to how customers see themselves using your product.
Invest in a decent camera if you can.
Add detailed product videos.
Did you know that Facebook has eight billion video views every day? That's how much people love watching videos.
Another search engine optimization technique for your online store is to Add a video showing your product in action whenever possible. Once again, a decent video camera is your best tool. Couple it with a tripod, a simple editing software, some light setup, and a quality audio recorder.
Don't worry if you're not good at video editing—that's something you can outsource.
Remove social sharing buttons.
Your customers are basically in shopping mode when they're on your product page, so asking them to share a product on Facebook, Instagram, and YouTube will just distract them from buying.
And truth be told, you're not likely to generate significant organic traffic from these social shares. It can even affect your social proof rating if your page has zero likes and shares, as they might indicate to your buyers that it's not a popular product.
Search Engine Optimization Tips: keep your buyer focused on the shopping experience and place your social media follow buttons on your online store Contact page.
Tell a story in your product copy.
Make sure that you include all the relevant details in your description, such as colors, sizes, and inclusions—everything that a potential customer might ask before buying.
But don't just state facts about the product. Take this opportunity to tell a story about it.
Highlight the benefits and show how the product can make your customer's life better. Appealing to the emotions makes it sell better, but be careful not to hype it.
And of course, don't forget to check your spelling and grammar. A product description riddled with typos and errors is going to kill your conversion rate.
Another thing you should consider in optimizing your product page is your page meta descriptions. Your product page meta descriptions play an important role in ranking your eCommerce store on a search result or on a search engine results page. Don't forget to include search terms target keywords on your meta description. To determine the search volume of keywords and to get keyword ideas for your e commerce platform, you can use a keyword planner for your keyword research.
Showcase your product reviews.
Another SEO strategy you should implement on your online store is adding product reviews. Positive reviews convince customers that a product is worth it, encouraging them to click that "Add to Cart" button.
It also guides them in making informed decisions regarding size, color, and other details.
A couple of Shopify apps you can use to embed product reviews are Yotpo and Product Reviews.
Shopify SEO Conversion Optimization: To optimize your checkout experience
Pre-fill customer information.
Checking out would be a lot easier for returning customers if you can pre-fill their shipping and billing addresses. This way, they don't have to enter the same info repeatedly.
Research from Formstack even revealed that conversions skyrocketed to a 200% increase when businesses used autofill features.
Don't be shady with the shipping and delivery details.
More than a fourth of customers said that they would abandon their cart if they get ambushed with unexpected charges or shipping costs.
That's why you always have to lay down the details upfront, like pricing, shipping costs, and delivery time. If you show how valuable your product is, your customers won't mind paying extra for it.
It also acts as a great "objection buster" as it pre-emptively answers an important question in the minds of your consumers.
Optimize your emails.
Shopify store owners usually send thank you and order confirmation emails once a customer completes a purchase. But that shouldn't be the end of the buyer's journey.
Use these emails to encourage your customers to repurchase from you in the future. Some of the things you can do are as follows:
Put a link asking them to sign up for your newsletter
Link them to a related blog post
Send them exclusive promos and discounts as a token of appreciation
Send abandoned cart emails.
Do your customers often leave items in their carts, and then not buy them? Give them a little nudge to complete the purchase by sending abandoned cart emails.
You can set it up within 6 hours to 24 hours after a customer abandons a cart. Make sure to customize its content to fit your brand's tone and image. Better yet, follow up with a coupon code to entice them to buy.
SEO Optimization Shopify Conversion: Optimize shipping and returns
Offer free shipping.
Shipping can be expensive, so it's no surprise that a lot of customers hold back if the shipping costs are hefty. Survey results show that as much as 95% of customers say shipping costs affect their decision to purchase.
That's why if possible, try offering free shipping promos to encourage your customers to order an item. According to a case study by SitePoint, free shipping offers increased conversions by 50%.
But if you really must charge shipping, think of a gimmick like, "Free shipping once you reach $50." You can also add the shipping cost to your product price so that it doesn't look like an additional fee.
Have a refund policy.
If you're selling clothes or shoes, not having a refund policy may be costing you some sales. At the back of their mind, your customers are always asking, "What if it doesn't fit?"
Relieve customer concerns by having a clear refund or replacement policy. You can enlist the help of Shopify's Refund Policy Generator for this purpose.
The most important strategy you should implement for your online store is to register your Shopify store with Google Search Console. Why? By registering your online store on the google search console you can easily monitor your e-commerce site activity and troubleshoot for any SEO errors. Adding your online store on the google search console will increase your online store visibility.
Follow these Shopify search engine optimization tips to transform your e-store into a cash-generating machine. Identifying and fixing issues on your Shopify streamlines the customer buying journey, leading to more sales and happy customers who keep coming back for more.