WooCommerce is a user-friendly program that helps you build an eCommerce site with your WordPress site. It comes with all the vital features you could ever want for your store. Compared to other programs, WooCommerce allows easy customization. It's cheaper, too!
More than just improving the retail experience, WooCommerce can also boost your e-commerce business store's SEO Audit performance. After all, your site rank in search results is important for any business.
Is WooCommerce Well-Suited for SEO?
The answer is a resounding YES.
For one, it runs on WordPress, which is one of the world's best content management systems. It also comes with techniques and plug-ins that further improve the WooCommerce SEO experience.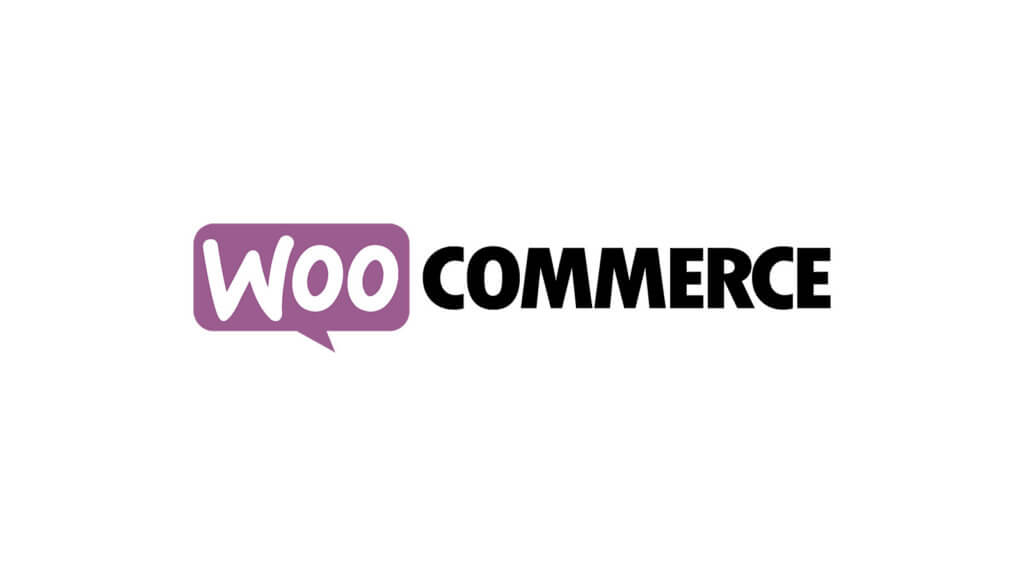 eCommerce SEO Report: How to Make the Most Out of WooCommerce SEO
As with your WordPress site, you need to work on your WooCommerce store to rank higher in search engines.
Here are nine tips that can help you maximize your eCommerce sites SEO properties:
Keep URLs short.
First, you need to enable WordPress permalinks to make your URLs visible to clients and search engines. This option is placed under Settings.
By doing so, you can edit the URL and make use of SEO-attractive keywords. It would be best if you would use long tail keywords from your keyword research in your URL.
Optimize the page title.
The title should not only appeal to the customer, as it should be favorable to search engines as well. As you do so, make sure to use the appropriate keywords. As always, do not compromise user readability when optimizing the page title.
For your category page, it's better to use a broad term, like "handbags," for instance. As for your product pages, go for specific search terms – like "blue leather tote" to prevent both pages from competing with each other.
Meta descriptions, which are placed under the search result, give the user an overview of the website's content.
As such, you need to write a good entry in 160 characters or less as it will help improve your site's click-through rates and improve your eCommerce SEO report.
Remember to use keywords and magic words such as "sale" or "free shipping." Don't forget to ensure that your page title and meta titles match on your product page.
Don't forget to include a product description.
A product description provides crucial info for your customers. Not only should it be informative, but it should come with vital keywords as well. After all, search engines consider this in their rankings.
While it may be tempting to copy the manufacturer's description, avoid doing it. Chances are, a lot of other retailers use that, and that could pull you lower in the rankings.
For best results, write a unique product description that showcases benefits, not features, so that your customers know what's in it for them.
Be unique.
As mentioned, a copy-paste product description can drag you down in search traffic.
The same applies to content. Content is king, so make sure it's fresh, unique, and informative.
Optimize images.
Apart from providing crystal clear images, it would be best to add alt text to your photos. It can give your website that much-needed SEO boost. Again, your product image text should be seamlessly integrating your keywords.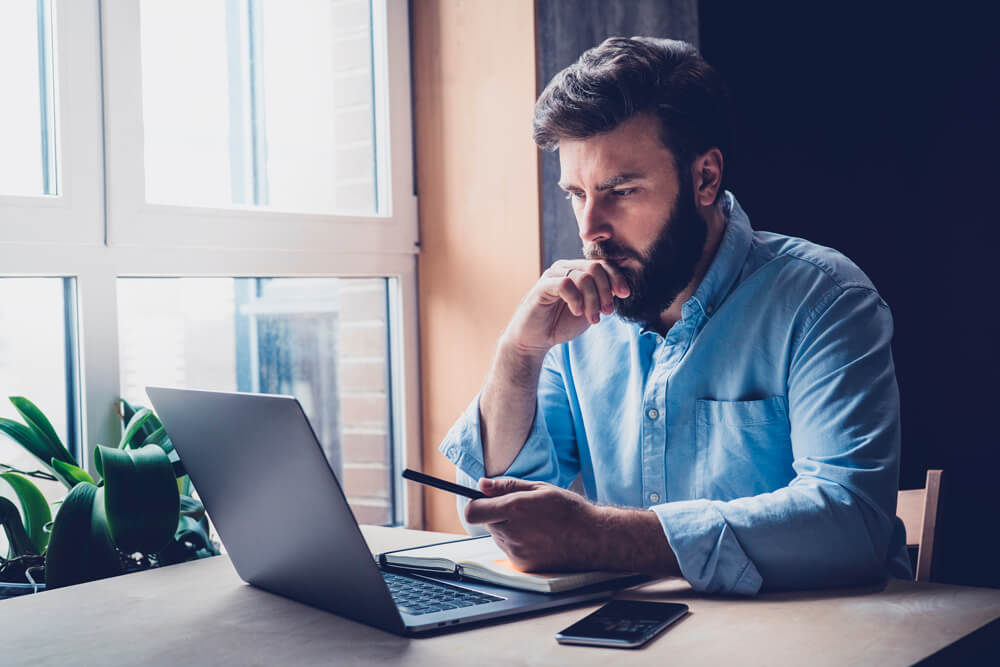 Go for breadcrumbs.
Breadcrumbs are links found at the top of product pages. They enable visitors to move back and forth within the eccomerce website quickly.
Apart from aiding browsers, breadcrumbs also help search engines identify your website structure.
Simplify site navigation.
One of the best ways to fare better in search results is to maintain good site navigation. This keeps your visitors within the website for a longer time, which Google and Bing consider in their rankings. Google Analytics is a great tool for analyzing your website traffic. On the other hand, you can easily increase your conversion rate by using google analytics and google search console.
Ideally, your main navigation should include the most important links. You could place the others in your footer.
As always, make sure that there are no broken links as Google would not be able to index them accurately.
Use WooCommerce SEO plug-ins.
While the techniques mentioned above can help boost your store's search engine ranking, WooCommerce offers SEO tools or plug-ins that may further benefit your rankings and improve your eCommerce SEO reports.
Get more traffic and potential buyers by opting for any of these plug-ins:
Plug-ins for product management
Inventory management often proves to be a difficult task, if not for these plug-ins:
Product Import Export for WooCommerce
With this program, you can import products from CSV files. It also allows you to update and sync products, export item details and images, and include SEO data and reviews.
Pricing Deals for WooCommerce
With the help of this plug-in, you can schedule pricing changes and hold buy one, get one sales. This also enables buyers to skim products according to price, discount, and other filters.
WooCommerce Wait List
Have you run out of certain items in your online store? This plug-in can help prevent your clients from migrating to the competition. WooCommerce wait list notifies the client once the item is back in stock, so your customer can make a mad purchase dash for it right away.
Plug-ins for better customer engagement
You want your customers to engage with your website, as this increases the chance of them buying from your store. You can improve this by using any of the following plug-ins:
WooCommerce Products Slider
One way to keep your clients engaged is to present them with an attractive product carousel. This plug-in can help you do that, as it comes with a fully responsive and mobile-ready unlimited slider. Your customer can even use this slider to add a product to the cart.
YITH WooCommerce Ajax Product Filter
Help simplify your buyer's search process by downloading this plug-in. This allows your customer to sort products by price, popularity, and other parameters. It also helps filter results based on discounts and availability.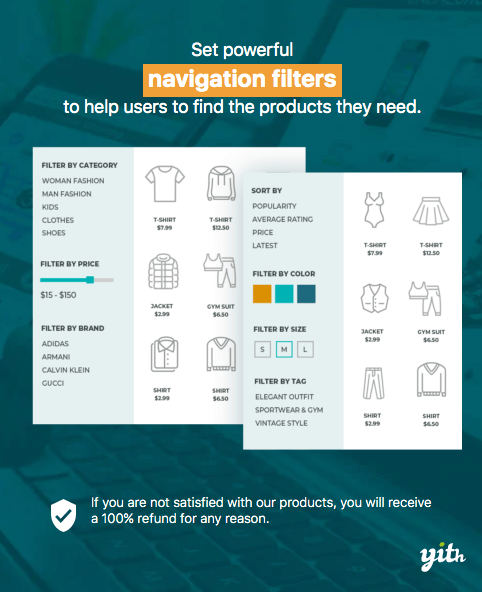 RafflePress
Everybody loves free things. Not only is it good for the clients, but it may also boost your business visibility. After all, holding a contest or raffle can help you acquire as much as 34% more clients.
With RafflePress, you can easily hold giveaways through your website, blog site, or social media platforms.
If you want to attract buyers and make them come back for more, then you need to provide them with the best shopping experience possible.
Fortunately, some WooCommerce plug-ins can help you improved user experience and avoid a high bounce rate:
YITH WooCommerce Wish List
A wish list can make the purchasing process easier for buyers. This plug-in helps the user create multiple wish lists that are shareable via email and social sites like Facebook, Linkedin, Instagram, and Twitter. It also comes with an add-to-cart button so that the client can buy the product in just one click.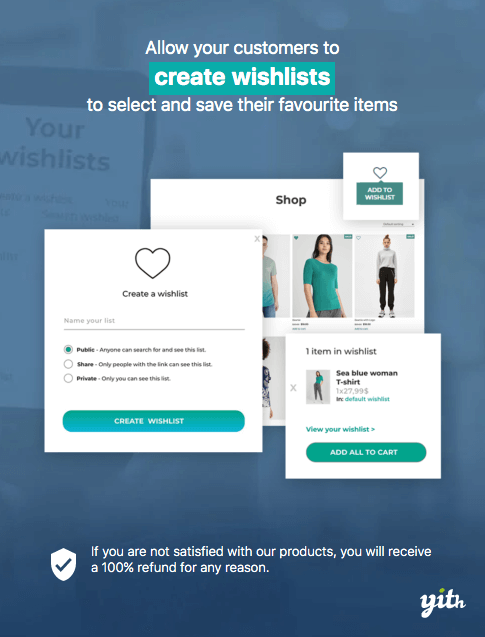 WooCommerce Multilingual
Online shops improve an owner's global reach. An excellent way to invite and retain these international shoppers is to have this plug-in.
It can translate the products, attributes, and categories according to the client's location. It also features admins and emails that are crafted in the user's local language.
WooCommerce Currency Switcher
As mentioned, another important SEO strategy is to keep foreign buyers engaged. This plug-in can help you out, as it switches the currency based on the shopper's location. It even allows owners to set a minimum amount for free shipping.
LiveChat
Buyers are impatient. In fact, 70% of shoppers abandon their carts when they don't get answers immediately.
You can prevent this by installing the LiveChat plug-in, which includes a responsive chat box for your online store.
Plug-ins for easier checkouts
Clients want to purchase stuff in the fastest way possible. Fortunately, many WooCommerce SEO plug-ins can make the checkout experience easy as pie.
Stripe for WooCommerce
With this plug-in, you can accept local forms of payment, credit cards, and debit cards. It promises safe and secure payments and is even optimized as mobile friendly for faster mobile checkouts, improving your user experience.
WooCommerce Checkout Manager
Checkout Manager allows you to rename, reorder, hide, or extend the checkout areas for billing and shipping. You can even create conditional fields and store necessary client information for future transactions.
WooCommerce Checkout Field Editor
Want a better way to customize your checkout page? Then ensure to try this plug-in, as it can help you enable or disable fields and change the order of said fields. It can even show you pertinent details, such as the buyer's email and ordering info.
Plug-ins for email marketing
As the name suggests, this process involves the promotion of products or services through email. It is known to offer a high ROI, as you can get an average return of $42 for every $1 you spend on email marketing.
Here are some email marketing-related plug-ins that you should consider:
Optin Monster
With this plug-in, you can boost your sales by growing your email list and recovering abandoned carts, to name a few.

This plug-in can help you create targeted campaigns, recommend products, and recover abandoned carts. It also allows you to communicate with clients who have made recent purchases.
Other Plug-ins
WooCommerce Shipping
Save 90% on USPS Shipping rates with this useful plug-in. Since it's built-in with WooCommerce, you don't have to waste time copying and pasting order details.
Monster Insights
Monster Insights allows you to keep track of important retail data. It comes with real-time analytics, so you have a general idea of your store's revenues, transactions, conversion rates, and much more.
Include these practical hacks to your eccomerce SEO checklist to make the most out of WooCommerce SEO and increase your website traffic.
Create good and eye-catching landing pages.
Create a unique content strategy for your product category pages.
Perform keyword research.
Optimized On-page SEO.
Put more SEO effort in link building.
Use social sites to generate referral traffic.
Submit your eccomerce site to google search console.
Use the google search console to set up your XML site map.
Run an eCommerce SEO audit to check and monitor for any SEO errors
Avoid keyword cannibalization.
Create an SEO report template to make your SEO audit easier from time to time. You can also download a free SEO Report Template online, where you can edit and tweak the template to suit your
In a Nutshell
WooCommerce SEO helps you create a responsive retail site with the help of WordPress. Its low price and phenomenal plug-ins can help you soar higher in search engine rankings. And with its ability to improve your site's SEO, it can help you attract more customers – and generate more sales in no time!