If you want your website to rank on Google, there's only one thing you need to do: study SEO.
But what is SEO?
SEO stands for search engine optimization—the practice of increasing your website traffic using non-paid search engine results.
But it's more than just understanding how search engines work. It's also about knowing what people search for online—the words they're using, the answers they're seeking, and the type of content they want to read.
If you're new to the world of SEO, the terms and concepts might sound complicated. But don't worry, because we've prepared a simplified guide about what is SEO, and all the things you need to remember as you embark on your SEO learning journey.
Why is SEO important?
Search engines like Google, Yahoo!, and Bing are still the primary sources of traffic for most websites, despite the proliferation of paid advertising.
In the United States, for instance, less than 3% of internet searchers click on paid ads. SEO still has 20x more traffic opportunities compared to ads.
This is excellent news because the results generated through SEO are organic, meaning you don't need to pay advertising costs to create traffic for your site.
And once you've set up your website SEO, it will continue to reap its rewards over time. For instance, if you publish relevant and well-researched content that answers your audience's needs, your traffic will continue to increase as time goes by.
On the other hand, using paid ads means you need to fund it for a steady stream of traffic continuously.
How do search engines work?
Search engines have three main functions: crawl, index, and rank.
Once you type in a question or a keyword, it initiates search engine crawling—the process of scouring through billions of internet content and looking for links.
The search engine sends out a team of robots (also known as spiders or crawlers) to find relevant content, like a webpage, image, video, or PDF. It follows the links on those pages to find new URLs.
The crawlers hop along this path of links, finding more new content and adding it to their index—a massive database of all discovered content. It can be later retrieved when another searcher looks for information that's a good match for the content on that URL.
Finally, search engines scour the index for useful content and arrange those based on relevance—also known as ranking. The higher a website is ranked, the more relevant it is to the query.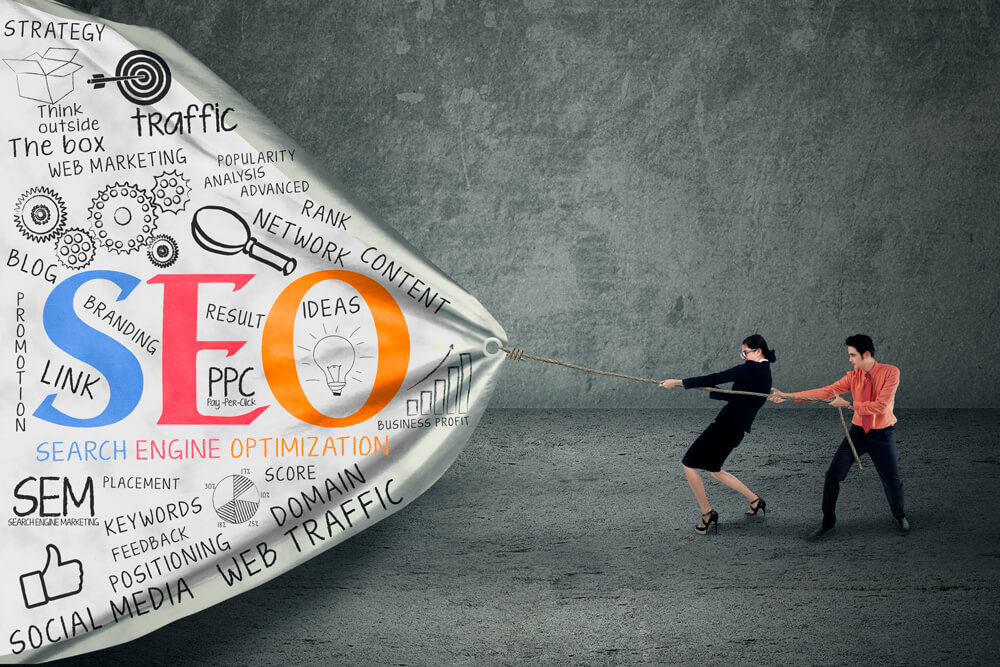 How do you optimize your site for crawlers?
To make sure that your target audience can find the content on your site, the first thing you need to do is to make it accessible to crawlers. Otherwise, no one will find your site.
Here are some tips to help you do that:
Optimize your Robots.txt
Your Robots.txt file found in the root directory of your website suggests which parts of your site search engines should crawl and shouldn't crawl.
You can use a tool to manage it, allowing you to allow or block crawling of any page of your domain. Once edited, upload it to your site so that Googlebots can follow the suggestions and proceed to crawl the site.
Minimize site redirects.
As much as you want to make sure that your website doesn't have any redirect links, that's not always the case, especially for large sites.
What you can do instead is try to minimize them as much as possible. A bunch of 301 and 302 redirects can push crawlers to stop crawling without even getting to the page that you need indexed.
Use HTML.
Google has gotten a bit better in crawling JavaScript, Flash, and XML, but other search engines aren't there yet.
Better stick to HTML for just to be on the safe side.
This is also the reason why you should limit using non-text media like images, videos, and GIFs to display the text of a page that you want to be indexed.
Fix your HTTP errors.
Do you have a lot of 404 and 410 pages? Sorry to say, but these pages are hurting your SEO as they have a negative effect on user experience.
Use a website audit tool like SE Ranking and Screaming Frog to check out these errors and fix them.
Update your XML sitemap.
Make it easier for the Googlebots and other search engine bots to understand your internal links.
Use canonical or authoritative URLs in your XML sitemap to accomplish this. Also, make sure that these links correspond to your Robots.txt's latest version.
Minimize protected content.
Search engines won't be able to see certain protected content—those that require your users to log in, fill up forms, or answer surveys.
That's why if you want crawlers to index such content, don't make them protected.
How do search engines index your pages?
After ensuring your site had been crawled, the next thing to do is to make sure your website is indexed—that is, your pages get interpreted and stored. After all, just because your site has been crawled doesn't mean it has also been indexed.
Here are some tips to get your site indexed:
Install Google Analytics and Google Search Console.
Why do you need both of these?
Google Analytics measures your website stats, like how many visitors you get, how much time they spend on your site, where they are from, what pages they looked at, and the like. It gives you valuable insight into the people you're reaching.
Google Search Console monitors various aspects of your site, like when it was last crawled, any indexing errors, and any security issues, among others. It even lets you manage how you appear in search results.
Create a content marketing strategy.
When done correctly, blogging can produce 13x positive ROI, which is why you need to focus on your content marketing strategy.
But blogging isn't the only strategy you can employ. You can also publish content on other reputable and authoritative websites and link back to your site to get more inbound leads. It also grows your traffic and helps with indexing speed.
Use internal links.
Remember that search engines crawl from page to page using internal links. It's also a great way to get indexed quickly and rank higher in the search results.
One place where you can get an abundance of internal links is your site's navigation. Let it follow a predictable flow so that it makes sense to Google. For instance, you can start with Homepage > Category > Sub-category.
You can also create authoritative pages where you can link to related pages on your site. Just makes sure that these pages are relevant to one another, as it's not a good idea to link unrelated pages together.
It also helps to structure your URLs properly so that it makes sense for both humans and search engines. A URL like https://mydomain.com/how-to-make-phone-battery-last-longer is definitely more sensible than https://mydomain.com/post?ID=5938.
Promote social sharing of your content.
When people share your content, it gets exposed to new people and leads it to the people who want to see it the most. SEO-wise, social sharing means having more links pointing back to your content, so it's useful for getting your page indexed, too.
An RSS feed is an automatic feed of your site that gets instantly updated once you publish a new post. It increases readership and conversion rate because it helps get your page indexed.
Users can subscribe to your RSS feed and receive your post automatically. It enables them to consume a large amount of content in a short time, which makes it great for user experience.
You can decide whether to show the full post or only excerpts. Also, include infographics in your feed so that your readers can better understand your posts.
Take note of pages you don't want to be indexed.
Thank you pages and duplicate content are just a couple of the pages you don't want to show up on search.
You can ensure that they don't get indexed by indicating it in your Robots.txt file or using a "nofollow" or "noindex" tag to your link.
How do search engines rank your pages?
The ranking of search results involves ordering the results from the most relevant to the least relevant. Search engines use algorithms to determine relevance. These algorithms often change to improve overall search quality.
Although many factors affect ranking, here are some of the most important ones:
High-quality content
Back in the day, websites would repeat keywords repeatedly to rank high on Google. But search engines figured out these aren't relevant to readers, so it's no longer the frequency of keywords that dictates rankings—it's the quality of the content.
A high-quality page answers the question or topic of the search. It includes original content with easy-to-read sentences and paragraphs divided into subheadings. It also includes multiple images or videos.
After all, only high-quality websites will spend time building high-quality content.
The combination of metadata and keyword usage can affect your ranking.
You should place keywords in various places of your content, such as in headings, paragraphs, lists, and images alt data.
You should also put keywords in your metadata, which include the title tag and description. These are displayed in search engines so that users can easily see what your page is all about.
Site speed
With most internet users expecting sites to load within two seconds, your site speed is vital in making sure that people won't leave your page right away. Plus, the longer your page loads, the lower the number of crawler's search engines sends to your site.
Learn more about how to boost your site speed in this article.
Knowing how search engines work—particularly how it crawls, indexes, and ranks pages—can help you formulate your SEO strategy and make sure that you get enough traffic and sales from your website.