How many times have you heard someone declare, "Email is dead!" yet you're still here, subscribing to the lists of your favorite influencers, buying whatever's in the link they send in their emails?
Let's state this once and for all. Email is NOT dead. And it doesn't look like it's going to die anytime soon.
Sure, there are now more ways to market to your audience—thanks to social media. But email remains to be the king of the jungle, with 3.9 billion email users all over the world in 2019. If the trend continues, in 2023, there's going to be more than 4.3 billion email users. That's half of the global population.
In fact, a lot of business owners still use email marketing to grow their businesses. 81% of small to mid-size companies rely on emails as their primary way to get new customers, while 80% of them also use emails for retention.
And according to statistics from DMA, every $1 you spend on email business marketing gives you an average income return of $42. That's a pretty sweet return on investment!
So you see, no lottery scams or Nigerian prince schemes can take email down.
But to leverage the many possibilities of email marketing, you can't rely on sending emails one by one. That's a huge waste of time.
What you need is an email automation tool that will help you drive conversions at scale, without taking up a huge chunk of your time. You want something that has a reasonable price, is easy to use, and offers a host of features that will allow you to engage your prospects and skyrocket your sales.
Enter Mailchimp—one of the classic email marketing software in the market.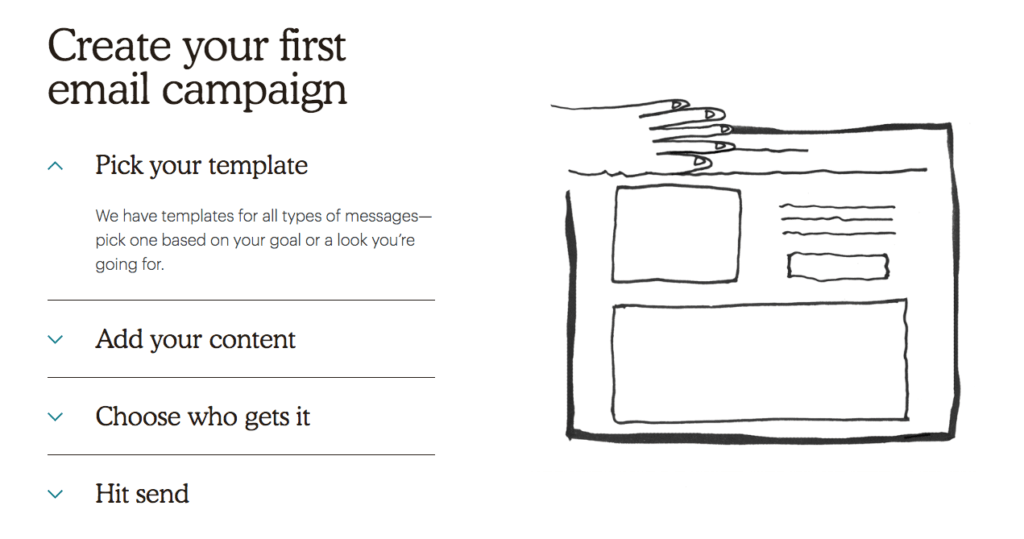 What is Mailchimp?
Mailchimp (often mistaken as Chimpmail) is a user-friendly and straightforward email marketing tool used by individuals and businesses to create and manage mailing lists, newsletters, and automated campaigns.
Founded in 2001, Mailchimp is one of the oldest and most popular email marketing software today with more than 20 million users globally, including the United States Postal Service and China Mobile.
You can easily integrate it into your WordPress site and other content management systems to build your email list, create email signup forms, set up RSS feed newsletters to your subscribers, and measure the results of your campaigns and sales.
How does Mailchimp help your business?
As a convenient all-in-one tool for your email marketing needs, Mailchimp can help boost your business' sales in a variety of ways, such as the following:
Mailchimp helps you grow your email list.
When it was first launched, Mailchimp was solely an email list builder. Now that it has expanded its features, email list building remains to be one of the best ways to use Mailchimp for your business.
You can use Mailchimp to create email signup forms and embed them on your landing page, allowing you to collect emails with ease. You can also create custom fields so that you can capture relevant information about your subscribers.
You can segment your list using Mailchimp.
The success of your email marketing hinges on delivering relevant content to your audience. To make sure that you're sending useful information to them, it's recommended that you segment your email list. Organizing your subscribers into different lists allows you to deliver hyper-targeted information to them.
Mailchimp lets you segment your list based on the parameters you indicate. For instance, if you're running a wedding website, you may want to divide your list into wedding suppliers and couples. This way, your subscribers only receive content that's relevant to them, minimizing their chances of unsubscribing.
Once you've set up your lists, you can add subscribers manually by entering their names and email addresses. You may also upload a spreadsheet or import them from another site.
Build and design email campaigns using Mailchimp.
The great thing about Mailchimp is that you don't need to have any HTML or coding knowledge to design a beautiful newsletter.
Mailchimp features a wide selection of pre-built templates to make it easier to create your newsletter. You can also customize the content using Mailchimp's WYSIWYG builder.
Afterward, you can send emails right away or schedule them for later.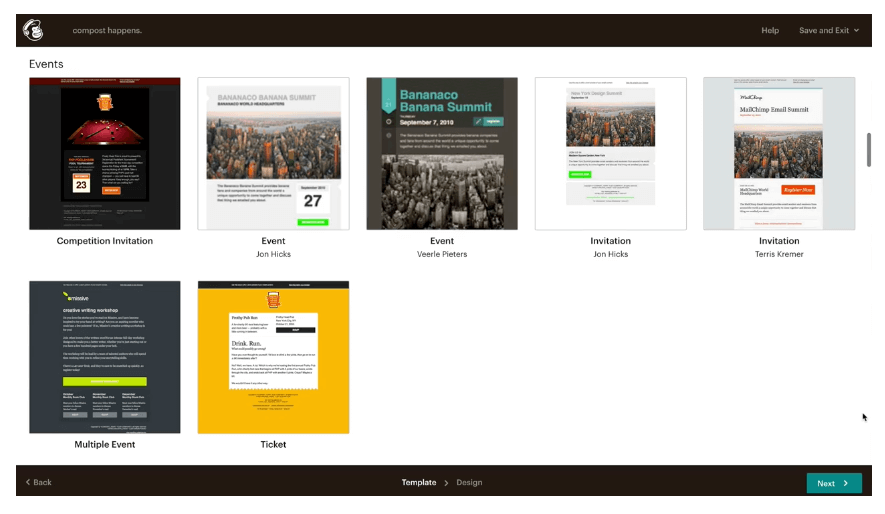 Mailchimp allows you to automate your email campaigns.
You don't have to send an email every time someone subscribes to your list—Mailchimp can automate that for you!
All you need to do is set up a welcome email campaign that Mailchimp can automatically send to every new subscriber, regardless of when they sign up.
You can also create other campaigns, such as a thank-you note every time someone buys from you or sending an abandoned cart sequence to someone who forgot to check out but left items in their cart.
Automated campaigns enhance your interaction with your subscribers and help you tailor-fit your brand to the exact need of your subscribers. You just need to set up triggers to activate an email sequence.
Test your campaigns with Mailchimp.
Have you ever sent out an email that you immediately regretted because there was a typo in it? You don't have to worry about that on Mailchimp since the software offers inbox preview and testing before you send an email blast.
With Mailchimp, you can test the campaign first before launching it to simulate how it will look like in your subscribers' inbox. Mailchimp can simulate the inbox of over 40 different email providers, so you can make sure that your newsletter looks good no matter where it's received.
Mailchimp allows you to track the performance of your email campaigns.
How do you know if your email campaign has been successful or not? You can check it in Mailchimp's Report section.
Each email campaign report provides detailed information about your emails—how many have been successfully delivered, how many people opened it, how many people clicked a link, and which links are the most popular.
These insights allow you to evaluate your emails and know which ones are not working so you can test new strategies with it.
You may also integrate Mailchimp with Google Analytics for more in-depth reports.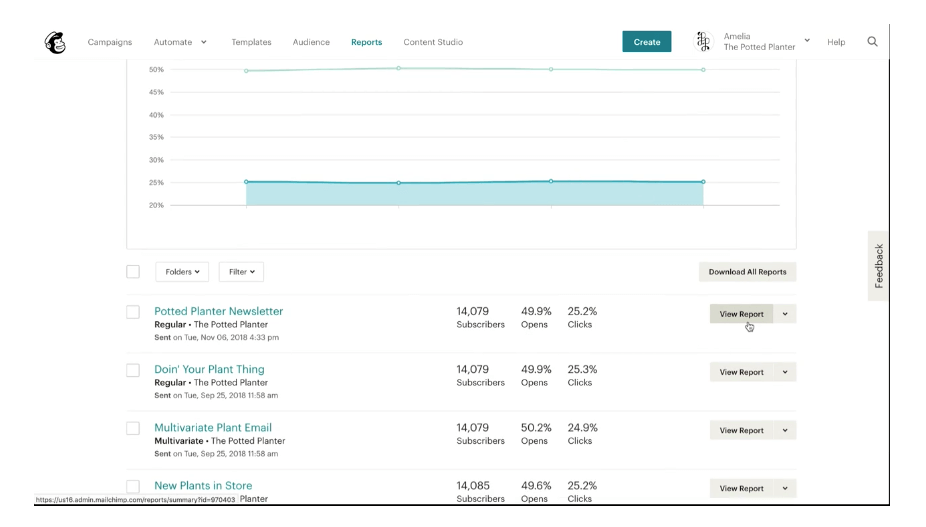 How can you get the most out of Mailchimp?
Now that you know how Mailchimp can boost your business' sales, here are some advanced techniques to help you make the most out of your Mailchimp subscription:
Pre-fill your user's data in form fields.
Isn't it a bit irritating to receive a download link in your email, only to type your email address again before the download starts?
Avoid hassling your subscribers by pre-filling their data once they click on a link in your email. Integrate LeadPages—a landing page creation platform—with Mailchimp so that your lead only has to fill a form once. All additional forms moving forward will then be pre-filled with their information.
Ditch HTML and use plain text emails.
Automated emails are great timesavers, but they also tend to feel detached. You have to make your readers feel like you're specifically talking to them, one on one, and not making a speech in front of thousands of people.
One quick trick to make your emails feel more personal is by using plain-text emails instead of fancy HTML. It reads like a personal email, not a company-generated one.
And according to Neil Patel, this trick increased his click-through rates by 20% even though the email's automated.
A/B test your email subject lines.
Not sure if your subject line is attention-grabbing enough? There's only one way to find out—through A/B testing.
Also known as split testing, A/B testing is a method of comparing two versions of an email against each other to know which one performs better.
If you're on a paid Mailchimp subscription, you can A/B test your subject lines to your email list. Track the open rates of two different email subject lines by letting Mailchimp test on a segment of the list. Once the "winner" of the two subject lines is determined, your email with the winning subject line will be sent to the rest of your mailing list.
Use Zapier to integrate Mailchimp with almost any tool.
Zapier is a software that lets you connect tools and services to one another, helping you automate most of your tasks. Just imagine how many apps and programs you can utilize with your powerful Mailchimp account when you use Zapier!
With Zapier, you can integrate Mailchimp with a variety of software, like Gmail, Typeform, GoToWebinar, Google Docs, HubSpot, and Eventbrite.
If you want to get the full list of Zapier's Mailchimp integrations, check it out here.
Remove subscribers who don't open your email.
Just because you have a lot of subscribers doesn't mean that you're going to have successful email marketing campaigns all the time. There's such a thing as "low quality" subscribers, who don't care much about your product and are only after the freebies you gave during opt-in.
Subscribers who haven't opened their email in three months only distort your campaign stats. They're of no value to you, and you're even paying to keep them in your subscribers' list. That's why cleaning up your list now and then can help you get rid of these people and even keep your marketing costs down.
Whether you call it Chimpmail or Mailchimp, this powerful email marketing tool can help your business soar to greater heights—as long as you use it right.
You can sign up for Mailchimp's free version, or upgrade to its affordable plans depending on the current needs of your business.