I train your team fast
and coach youR SEO
Join THE EXACT SAME TRAINING my agency's team goes through before
– even if they had no experience with SEO or digital marketing before!
Countless times I have been asked by my clients about how they could learn the basics of sustainable SEO, and which training I would recommend for their team to learn SEO fast, so they could work their website's SEO the right way.
My answer was simple:
You should get the same training my team gets!
I have been working in SEO for 19 years, and have been training my digital marketing's team for more than 12 years, even when they had no prior experience at all!
Now we finally were able to put our internal training into a publicly available, constantly growing course and coaching format!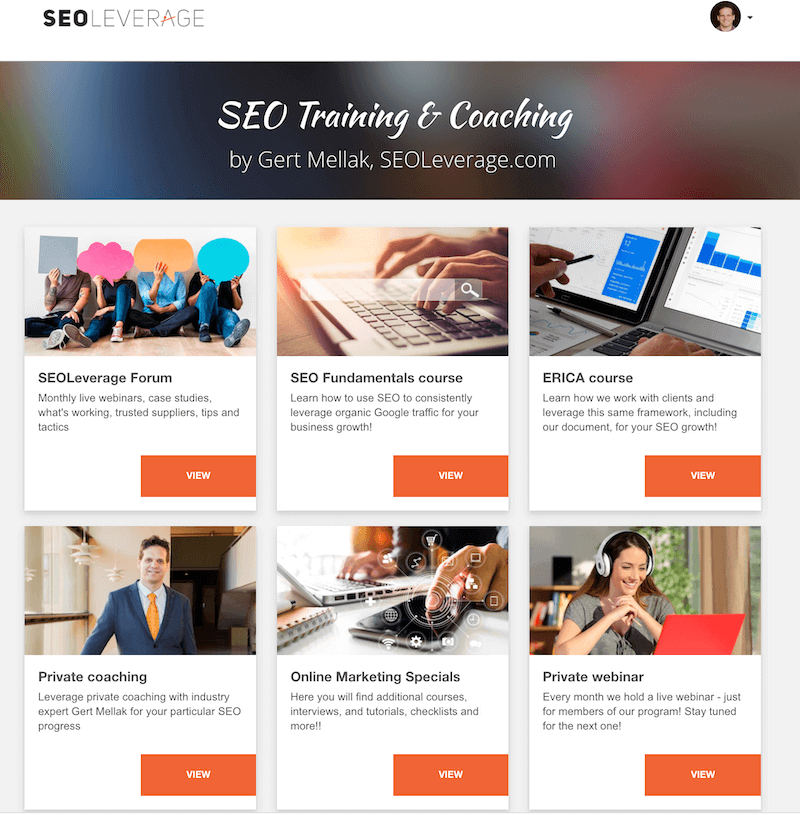 SEO Fundamentals course
in 6 modules:
Technical SEO
Learn the 3 key things to take into account!
Keyword research
Know how your audience searches for your product or service!
Content structure
Content without structure doesn't get ranked well!
Content optimization
Optimize your articles based on a key thing you need to understand!
Offpage SEO / Link building
Tactics to get backlinks from other sites to yours.
The ERICA framework
Learn exactly how we bring results to our clients!
BONUS: Membership trial
60 days free private coaching
with Gert Mellak
60 days free monthly webinars about what's new at Google and what works for our clients right now
60 days free access to a forum for more news, case studies and tactics around SEO
60 days free access to a online marketing special courses on topics like Google Search Console, Google Analytics, Link building examples, etc. (continually growing)
Gert far exceeded our expectations, got back to us much quicker than we thought he would, and provided lots of detail and suggestions about our business that we didn't know about.
THIS IS NOT FOR YOU if you look for an advanced, black-hat, extremely technical SEO courses showing you strategies that work today but might not work tomorrow!
This course was built with the beginner to slightly experienced site owner, webmaster, content manager or virtual assistant in mind – no previous SEO knowledge is necessary, the course picks you up by explaining why SEO is crucial as one of your traffic pillars, how Google works, and how your website and content can help Google send you traffic and slowly brings you to keyword research, link building and technical SEO.
There are more advanced trainings out there – in fact, I know pretty much all of them, some of them we purchase for our team as advanced trainings. 
This course is going to help you leverage your existing team, or a virtual assistant, and get them up to speed in SEO!
Here are the goals of this course:
This SEO fundamentals course will: 
teach you the SEO basics as fast as possible
enable you to maintain an informed conversation
with your SEO consultant or agency
enable you to grow your site's SEO  – the right way!
teach you how to perform extensive keyword researches 
help you analyze the essential parts of your site's technical SEO
teach you how to improve your internal linking
teach you the essential tactics of link building
enable you to apply our ERICA framework to your SEO strategy
Gert is an outstanding online marketing professional. We were reluctant to get anyone to help us with our SEO and site layout, but decided to work with Gert based on a referral. He far exceeded our expectations, got back to us much quicker than we thought he would, and provided lots of detail and suggestions about our business that we didn't know about.
After searching for a reputable SEO partner to work with Regus in Europe i came across SEOleverage & Gert of which i would highly recommend as a great business leader/SEO/e-commerce/online marketing expert. SEOleverage has become one of Regus's main link partner.
Working with Gert on a monthly basis has been both a pleasure and rewarding for myself & Regus - i would highly recommend Gert to any company looking for SEO or online marketing. Absolute expert in his field and a real pleasure to work with.
Do you have a team? Are you looking for practical training and tools to directly implement what you have learned?
Chances are you already have a team or at least a VA working on your website, or are thinking of growing your team soon. 
I also assume you have done some SEO already, or engaged with a person to do that.
Many of the courses out there are not practical enough – they explain some concepts but do not show examples, or give you the tools you need to properly implement these things on your site.
Also, sometimes you need some coaching, or a few answers to your questions, to be able to leverage a training!
We implemented about 75% of your recommendations, added hub articles, changed our internal linking, and are creating do follow links for link building. Traffic is just starting to increase now. Much appreciated. 
Evan Bleker
Founder @ netnethunter.com
Here are some of the most asked questions about this training & coaching!
How long is the training?
Right now we're at about 3 hours of video training and counting, as we update the course based on questions we receive, and sometimes re-record videos if we find a better way to explain a section.
I'm a one-person business, is this for me?
The training is for everybody looking to work their SEO the right way. If it's all you right now – great. Once you have the first team member, you will already have a training to send them to work through.
Is the course only about SEO or other topics as well?
The course is SEO only, but comes with a 60 days BONUS trial of our program membership, which contains access to private coaching with Gert, monthly private webinars, and additional online marketing courses.
When will I see results?
This depends not only on you but also your progress in adapting your website to the standards explained in this course. Leveraging the private chat with Gert should speed things up, expect a few weeks for a start to see the first movements in rankings and clicks from search.