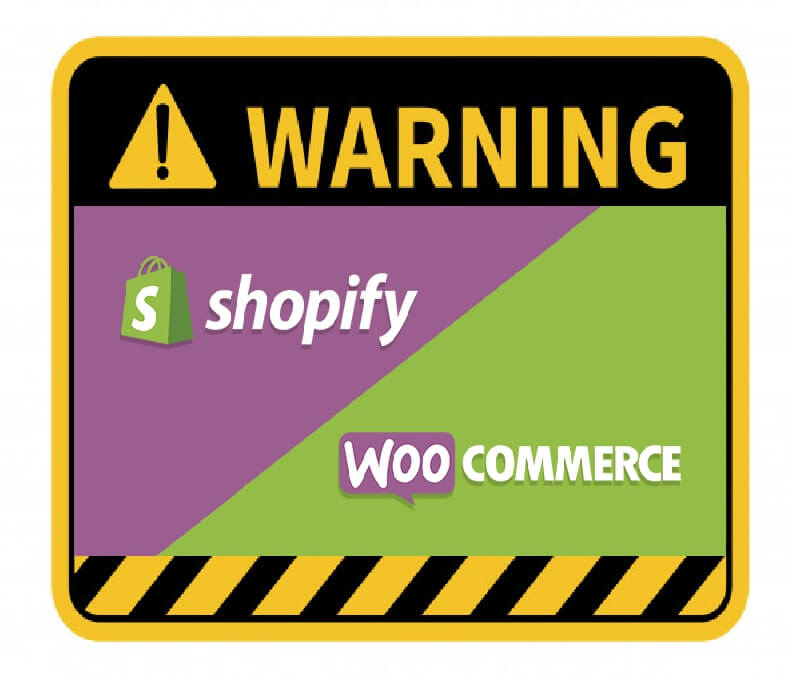 If you plan to create an online store, you need to choose the best eCommerce platform in the market. To date, the two most popular options in the market are Shopify and Woocommerce. Both promise ease of use and lower transaction fees, among many other things.
Although both platforms have great features, it cannot be denied that they have some drawbacks as well. So before you try Woocommerce and Shopify, it's best to know the warnings that come with their use.
Woocommerce vs. Shopify: A Head-to-Head Comparison
Before we proceed with the disadvantages of Shopify and Woocommerce, let's talk about the two eCommerce platforms first.
Shopify
Founded in 2006, Shopify is a hosted platform that enables users to set up a store to sell their wares. Here, you can market virtually anything under the sun -- physical products, digital products, lessons and classes, memberships, rentals, and even ticketed experiences.
Let's take a look at the three Shopify plans available:
Basic Shopify Plan - $29 per month
Shopify Plan - $79 per month
Advanced Shopify Plan - $299 per month
Shopify also offers a basic plan known as Shopify Lite, which only costs $9 a month. As this restricts you from opening your own Shopify store, this is recommended for those who already have websites or social media accounts from which they sell their products. With Shopify Lite, you can embed a buy button on your page that the client can click for checkout.
Apart from these costs, you will also need to shoulder Shopify Payments' transaction fees. Online credit card rates range from 2.4% to 2.9% plus 30 cents, while in-person fees cost 2.4% to 2.7%. Apart from that, usage of other payment gateways will merit an additional fee of 0.5% to 2%.
Woocommerce
Woocommerce is an open-source platform, meaning you have complete ownership of your shop. Built on the WordPress content management system, this program is not only customizable; it's flexible and scalable as well.
With a Woocommerce store, you can sell virtually anything. It also allows you to configure shipping options and receive secure payments that make online selling easy.
Unlike Shopify, Woocommerce does not have packaged plans. The cost of running your store will depend on several factors, such as:
Domain name registration: $15 and above
Hosting services: $120 a year
Themes: Free, although there are paid themes that cost $100 a year
Shipping: Free with the Woocommerce Shipping Extension, advanced choices cost $9 per month to $99 annually
Payment options: 2.9% + 30 cents for Woocommerce payment, Stripe, or Paypal options, with a monthly fee of about $25 if you want to process credit card payments directly on your site
Communications: Free to $348 annually
SEO: Free to $79 a year
Security: Free to $300 a year
SSL certificate: Free to $69 a year
Developers' fee: $1,000 to $15,000
Customization costs: about $1,000
Shopify vs. Woocommerce: What's the Best eCommerce Platform?
Woocommerce and Shopify are the most popular options because of their unique strengths.
If you're still clueless about which to choose between the two, you should base your decision according to the advantages of each eCommerce website:
Shopify
Ease of Use
Shopify makes it easy to start your own business. Once you create your account, you will be treated to a setup wizard that can help you open your eCommerce store.
Compared to Woocommerce, you don't need to look for a host as Shopify has this ready for you.
With its drag and drop builder, it's easy to add product descriptions and upload photos and videos to your Shopify site. You're also free to play around with your shop design before you publish it live.
Excellent Uptime
Uptime is a measure of reliability. This pertains to the percentage of time that a program has been available and working.
As for Shopify vs. Woocommerce, the former is the clear winner with its uptime of 99.99%. Although this number is possible with WordPress, such results will depend on your third-party host, which is why you shouldn't scrimp on your Woocommerce hosting solution.
Security
When it comes to security, the former wins the Shopify vs. Woocommerce head-to-head comparison.
As a self-hosted service, Shopify can take care of any potential threats right away. It even encourages hackers to find any security issues on the site.
Shopify offers a reward to Hackerone participants who might be able to find a security loophole -- that's how confident the eCommerce company is with its system!
With its free SSL certificate and PCI compliance, you don't need to worry about your payment gateways' security.
More than just keeping your transactions secure, Shopify also ensures the privacy of your merchant account through its two-step authentication process.
Should you decide to download a backup copy of your Shopify site, all you need to do is install the plugin Rewind. It's free of charge for small stores, though it may cost you $39 if you process more than 200 orders monthly.
Abandoned Cart Recovery
Cart abandonment is a significant threat to any online store. According to a report, it can lead to as much as $18 billion in losses. As such, it's essential to persuade your buyers to complete their transactions.
Whatever plan you might have, you'll be happy to know that this feature is included in your Shopify account by default. Should your customer leave his/her cart behind, Shopify will send cart recovery emails on your behalf.
Shopify One-Page Checkout
Shopify offers one-page checkout, which is perfect for on-the-go buyers. With this, you can either have a pop-up or a buy it now plus add to cart combo for faster checkout.
You can get the One-Click Checkout plug-in through the app store or modify a few lines of your code. This means your clients get to skip a longer checkout process, which runs like this:
Product page > Shopping cart page > Item review > Shipping/Billing info > Payment info > Order confirmation
By simplifying the checkout process, reports show that you may help boost your Shopify conversion rate by as much as 21.8%.
Search Engine-Friendly
If you want your online store to have a wider reach, you need to do SEO. With Shopify, you can do this on your own with minimal professional assistance required.
Comparing Shopify vs. Woocommerce, the former comes ahead because of these built-in features:
Auto-generated canonical tags that prevent content duplication
Auto-generated sitemap.xml and robots.txt files
Themes with auto-generated title tags that include the Shopify site name
Dedicated Personal Support
While a Shopify store is easy to install and run, you may still have issues along the way. Given the company's dedicated personal support, you can get the resolution you need 24/7. You can readily talk to any of the Shopify agents through phone, live chat, or email.
Woocommerce
Affordable Price
Although using Woocommerce entails many services, you don't necessarily have to spend a lot of money. After all, there are many free and cheap offerings. For example, SiteGround offers managed hosting for as low as $3.95.
As for transaction fees, you need not pay WordPress anything -- only the merchants that processed the payments. You may even avoid these additional costs by offering check payments, bank transfers, or cash on delivery on your Woocommerce store.
Best for Dropshipping
Dropshipping is the best fulfillment method for sellers who don't have much capital or storage space. With this, the third-party company does the order processing and shipping for you.
Should you decide to go with this business model, a Woocommerce store is sure to do you good. With this, you can install plugins to help you fulfill orders right away.
Some WordPress programs enable you to import products as well. If you want, you can even create your own Woocommerce marketplace where other vendors can sell their goods.
More Free Payment Options for International Customers
While the Shopify vs. Woocommerce debacle shows that both offer multiple payment methods, global sellers may need to pay more with the former. That's because the cheaper option that is Shopify Payment is not available in most countries.
On the other hand, Woocommerce offers PayPal credit card support for free, making it the clear winner for global sellers.
Other options are available as well, though Amazon Payments and Braintree may cost you $79 a year for your Woocommerce store.
Multilingual Capacity
When it comes to global selling, the former proves to be the clear winner in the Woocommerce vs. Shopify contest. It has all the features you need, most notably its multilingual plugin. With this, sellers can build a multilingual eCommerce website with relative ease.
A Woocommerce plugin can help you translate posts, pages, menus, taxonomies, and custom types in a nutshell. As it's compatible with any WordPress theme, installation is a breeze as well.
Computes Worldwide Taxes Automatically
If you sell internationally, calculating varying tax rates can be a tiresome task.
Fortunately for you, Woocommerce offers a plugin called TaxJar, which does real-time sales tax and calculations for you. Although this is available for a fee, you can get it for free if your Woocommerce shop only has one tax nexus.
Great SEO Features
SEO-Wise, the former wins the Woocommerce vs. Shopify debate.
For one, you can optimize your WordPress store by merely installing a plugin such as Yoast. You can even get the rank-boosting rich snippets with the help of free Woocommerce plugins.
Warnings to Know Before You Try Shopify and Woocommerce
Whether you decide to use Shopify or Woocommerce for your online store, it cannot be denied that both eCommerce platforms have their pros and cons.
That said, reading these warnings can help you prepare for any of the eventualities that may come.
Shopify Warnings
Customizing Shopify Themes Can Be a Chore
The Shopify app store offers 180 theme choices -- a mix of free and premium themes. There's also Themeforest, which allows you to choose from a total of 600 options.
Although there's a theme that is sure to tickle your fancy, you may want to have a unique, customized design that you can proudly call your own. Unless you're an established programmer, you will need to hire somebody to do this for you. This can take some time and a good deal of money, too.
Some Themes Load Slower
Shopify offers a variety of themes that look very good. However, things like fonts and plugins may end up slowing your site.
A turtle-paced Shopify site can affect your performance direly. According to a report, for every additional second your site takes to load, you stand to lose about 10% of your users.
Slow Shopify stores are ranked lower by Google, too. After all, crawling them takes a lot of time and resources.
So whenever you choose a theme, consider using a system font. It will also disable some fancy features, especially if you aren't using them at the moment.
Shopify Payments are Only Available in Certain Countries
As mentioned, using a third-party payment gateway comes with additional transaction fees. That's why it's best to use Shopify Payments for credit card transactions since it only comes with the set costs mentioned above.
Unfortunately, Shopify Payments are only available in a few countries, such as the US, Canada, Australia, and the UK. If you're not operating from any of these nations, you will be forced to use a third-party payment service.
Fees vary significantly according to country, so you must exercise due diligence when choosing a payment gateway for your Shopify eCommerce store.
EU VAT Rates Need Manual Setup
Calculating taxes can be a nightmare, as wrong computations can lead to expensive fines. Although Shopify can calculate American and Canadian taxes without a sweat, EU tax is another thing.
If your online store is based in Europe, you will need to set up your rates manually.
Shipping Rates are Only Visible to Advanced Shopify Users
95% of eCommerce buyers base their shopping decisions on the shipping fees. As such, it's important to show the cost of shipping.
Compared to Woocommerce, Shopify advanced plan users are the only ones that can get hold of this offer. If you want your rates to show, you may need to consider upgrading to this top-tier plan.
Shopify Has Some SEO Setbacks
Although the Shopify vs. Woocommerce comparison has shown that the former has a strong SEO capability, it does have some setbacks.
For one, you will need to install an app or modify your code if you want to run rich snippets. Search engines such as Google use this to show important details such as product availability, manufacturer, and user rating.
Shopify doesn't give much freedom to change your online store URLs as well. You can expect your content link to appear as pages or subfolders, while your blog may appear as a blog or news. From an SEO point-of-view, these structures are not that ideal.
Woocommerce Warnings
Tricky to Install for Beginners
Although setting up your Woocommerce shop is relatively easy, it does come with a lot of steps.
For one, you need to install or update the WordPress site before you can install the shop plug-in. These processes can be a bit tricky, especially if it's your first time using Woocommerce.
Although most newbies may find the eCommerce platform a little overwhelming to install, the web hosting provider Bluehost makes it easy.
If you don't mind spending some more, make sure to try the company's offer that allows you to start your Woocommerce shop in two to three steps.
Say that you have decided to give your website a facelift. Although this is easy to do in Shopify, Woocommerce may present a few challenges, especially if you have a complicated site setup.
As a plugin, Woocommerce requires various systems to work seamlessly. Making small changes in your WordPress account may lead to changes that affect the user experience.
Should you decide to make some modifications, you need to do it carefully while monitoring your Woocommerce shop often.
Multi-Channel Selling with Woocommerce Can Be Expensive
It is no secret that you can earn more by opening stores on Amazon, Facebook, and other social media networks. Although you can add a Woocommerce buy button to these platforms, it will cost you about $79 (except for Facebook, which is free of charge).
With Shopify, however, multi-channel selling is offered for free.
Should you decide to nix this option, you will have to upload your products to these platforms once again, which is a massive waste of time if you have thousands of items on your WordPress site.
Subpar Security
The most concerning problem in the Woocommerce vs. Shopify debate is the former's security loopholes. In fact, many hackers have infiltrated the eCommerce platform and succeeded.
The issue here is if you install Woocommerce and WordPress on your own. You have to be in charge of your online store's security, which you may not be able to monitor daily.
You also have to install the SSL security certificate on your WordPress site by yourself, unlike Shopify, which offers this automatically. You need not worry about the cost, though, as you can get this for free through Let's Encrypt.
It's also not PCI-compliant out of the bag like Shopify. If you want to achieve this security level, you will need to follow a long list of guidelines.
To reduce this security risk, you could seek the help of a managed WordPress hosting provider such as WPEngine, Dreamhost, or Siteground.
No Support for Free Themes
Unlike Shopify, Woocommerce doesn't have its own theme store. Although this is the case, you can still choose from over 600 options available at Themeforest.
While some of them are free of charge, these options usually don't come with customer support. There are many forums and Reddit threads that can assist you if you don't mind scouring the web for WordPress support.
If you can troubleshoot any problem that might come your way, choosing a free theme sounds good. But if you feel that you're going to require assistance, you need to opt for paid themes, which cost about $29 to $64.
You Need Paid Plug-ins to Show Real-Time Shipping Rates
Showing shipping rates is entirely possible with Woocommerce, although you'll need a paid plug-in to do so. You may also do this if you have the WordPress app ShipStation, which costs anywhere from $9 to $159 a month.
Scaling Entails Higher Costs
Are you getting more buyers from your social media websites? It's probably time for you to scale your eCommerce store.
While this will mean more revenue, expanding your Woocommerce shop will mean more expenses as well.
For one, you might need to upgrade your WordPress hosting plan. If not, you may not be able to facilitate all of your buyers, especially during the Thanksgiving and Holiday seasons.
Just think of all the sales you'll lose just because you refused to pay more for your Woocommerce hosting plan.
Conclusion
While Shopify and Woocommerce are the most popular eCommerce platforms in the market, they are not without drawbacks.
Shopify makes it hard to customize themes, and you also have to manually set up VAT rates if you're in the EU. Shipping rates are not visible unless you have an Advanced plan. It also comes with some SEO setbacks, apart from the fact that Shopify Payments are only available in four countries.
Woocommerce, on the other hand, can be tricky to install. It also makes it hard to make immediate site changes as it lacks customer support too. To make matters worse, this open-source program comes with some security issues as well.
In essence, Shopify and Woocommerce have their pitfalls, though they boast of several strengths as well. That said, weighing these pros and cons can help you choose the best eCommerce platform for your eCommerce business, allowing you to rake in more revenue and close more sales.