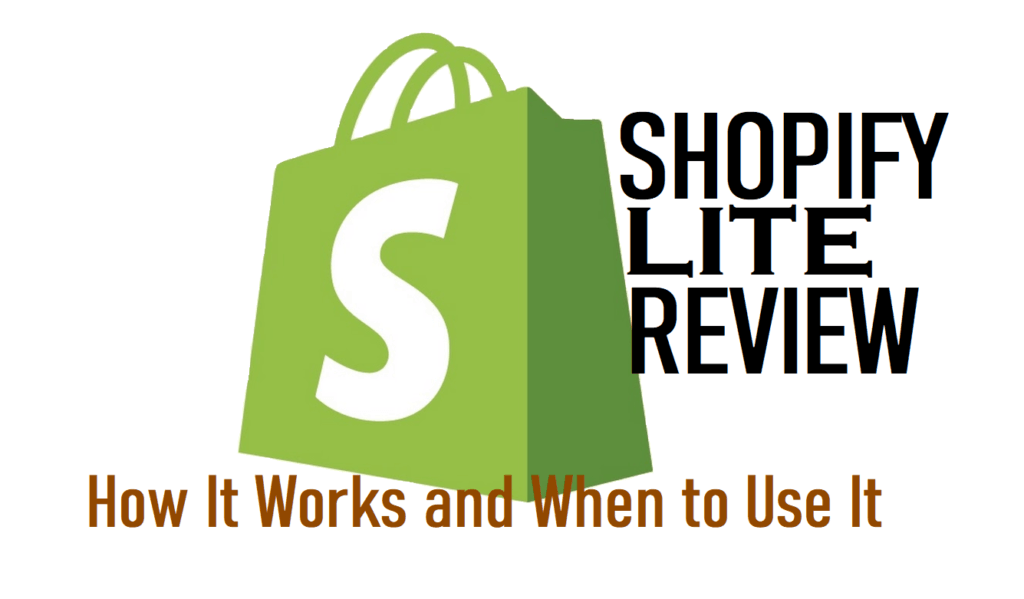 If you want to start selling online, you need to pick a robust eCommerce platform.
Although there are many options out there, you may find some of them very costly. On average, these sales channels can cost you about $20 to a whopping $250 a month.
So if you're looking for a cheaper option, you should consider Shopify Lite. With this, you can quickly sell your products for a mere $9 per month.
In this Shopify Lite review, we'll delve deeper into this affordable eCommerce platform. Here, you'll learn about how it works and how it can help you boost your business. We'll also compare Shopify Lite vs Basic and other Shopify plans.
What is Shopify Lite?
Shopify Lite is a great way to get started with eCommerce. It makes selling online and offline relatively easy as you don't need a website or full online store for your transactions.
With the Shopify lite pricing of $9 per month, it enables you to generate online sales at the cost of no more than two lattes.
How Shopify Lite Works
You can use Shopify Lite in two ways:
Online Selling
With Shopify Lite, you can start selling through your own Facebook store, website, or blog page.
With this plan, you can generate an embeddable product card or a buy button that can be placed on your existing website. It allows you to present the items you want to sell on Wix, WordPress, Weebly, or Squarespace in any style you want.
Apart from placing Shopify buy buttons, you can also embed a shopping cart right on your existing website. This cart is not only mobile-friendly, but it also keeps every transaction secure.
If you know code, you can also make use of the JavaScript Buy SDK program. This can help you customize your existing website or Facebook shop by running unique storefronts, look books, advertisements, and sponsored content, to name a few.
Point-of-Sale Selling
If you want to sell your products in a pop-up store, trade show, or farmer's market, all you need to do is take the Shopify app and card reader with you.
With these, you can accept credit cards for payment by merely using your own iOS or Google device.
Shopify Lite Plan Features
Apart from having the buy buttons and point of sale feature, the Shopify Lite plan also comes with these other attributes:
Order Creation
This tool is perfect for those who sell custom orders through a blog site or Facebook shop. With this, you can create invoices according to your current products and new items.
You can also offer discount codes and cheap shipping rates. You also have the option to save and track these orders through the Drafts feature.
Once you're done creating an order via the Shopify Admin app, you can:
Create invoices, wherein you send your customer a link directing to the checkout page on your store.
Pay with a credit card, where you type in details, such as the customer's credit card and billing info.
If you're using a direct payment gateway, you can process credit cards through the Shopify Admin platform. But if you're using Shopify Payments, the company will have to process this manually after selling products.
Despite this added step, you don't have to pay extra fees for this feature. You only need to pay for the usual online rate.
Overview Dashboard
This details the orders, sales, and other pertinent store data at any date range.
With this Shopify dashboard, you can:
Get an idea of how much you earn through social media selling
Check the performance of your various sales channels, especially if you sell on Instagram or publish your products on Facebook
Determine the average order value
See where buyers are coming from according to region or channel (Facebook business page, Instagram, etc.)
Compare your current sales at different periods (vs. last month or last year)
You can access the overview dashboard through the desktop by going to Shopify Admin > Analytics > Dashboard.
As for the iOS or Android app, you can find this feature under Store > Analytics.
Finance Report
As the name suggests, it shows the essential financial information about your website or blog. You can access this through the Finances summary page under the Reports page.
With this document, you can get a preview of your Shopify payments, sales, gross profit, and even your online store's liabilities.
Staff Account
The Shopify Lite plan comes with a single staff account. Here, your staff can perform basic admin tasks while minimizing their access to confidential data.
As the account owner, you can see any changes made through this account.
24/7 Customer Support
Whether you have questions or concerns about setting up, you can contact the Shopify customer support team 24/7.
As the live chat and phone support are only available in English, you can course your non-English queries in any of the 24 supported languages through the email team.
Shopify Lite Review: The Pros
So what makes Shopify Lite an excellent option for sellers?
Here are the best things about having a Shopify Lite plan:
Turn Any Existing Website into a Profitable Online Store
With Shopify Lite features such as the buy button and shopping cart, you can start selling products through Facebook or any other social media account quite easily. You can even append a buy button on popular blog sites such as Weebly, Wix, and WordPress.
For example, if you're a beauty influencer, Shopify Lite can help you sell cosmetic or skincare products right out of your blog.
Another perk of this platform is that it enables your customers to buy products on Facebook without leaving the social media platform. After all, it merges with your Facebook page, which is evident in the Shop tab. With this, your customers can add products to their shopping cart and check them out right away.
Shopify Lite syncs all your products as well, so you don't have to upload your items to every social media account you have.
Should you modify the description, cost, or quantity, these changes will be readily reflected on your Instagram website or Facebook store.
Live Chat Module through the Facebook Messenger App
Since most sales take place on your Facebook page, it's good to provide support through this channel.
Many thanks to Shopify Lite; you are entitled to a live chat module powered by no other than Facebook Messenger.
Facebook Messenger is not just for communicating with friends and family -- it's also a dispensable tool for your website. After all, it can serve as a lifeline between you and your customers.
As it comes with automated product information, this tool can immediately respond to your customers even if you're not behind the keyboard at the moment.
With Facebook Messenger, you also get to be notified of any messages that come through. If you always have your phone with you, you can answer these Facebook Messenger concerns quickly. Remember, customers prefer businesses that can address their concerns right away.
Say that your client is interested in an item's feature. As you can easily access product information from your Facebook website, you get to forward this data to the buyer in just a few taps.
You can also equip your responses with call-to-action buttons so that your client can buy the product right out of your Facebook Messenger conversation.
That's not the end of the Facebook Messenger service, though. After the purchase, you can send the client's order details and shipping updates through Facebook Messenger.
Again, you can provide everything that the client needs in just one page.
You Can Sell On-the-Go
If you have a standalone store, you may already use apps such as Paypal, Stripe, and Square. While they're suitable for offline selling, Shopify Lite is better since it allows online transactions as well.
As you can get a tap, chip, and swipe with your Shopify Lite plan, you can sell your products whenever, wherever. So if you decide to join a trade show or a pop-up store, you can rely on Shopify Lite to streamline your sales.
And since Shopify Lite monitors your inventory throughout different channels, your stocks remain updated whenever you sell something in-person. No need to worry about canceling orders from Facebook or any other social media website just because you've already sold the product at a trade show.
Shopify Lite also allows you to process any type of payment and even apply for discounts, taxes, and refunds so that you get to sell offline without the usual fuss.
It's Easy to Send Invoices
If your website deals with custom, wholesale, or phone orders, you'll benefit a lot from Shopify Lite.
With its custom invoice feature, you can easily send the payment details to your customers. Although it does the same thing as most invoicing tools, Shopify Lite comes with more features.
With its point-of-sale transactions and live chat functions, you can get the best value for your money with this program.
Cheap Price Tag
As mentioned, you have to pay a minimum of $20 to get started with selling products. But with Shopify Lite, you only need to pay $9 per month.
You get to make a lot of revenue right out of your Facebook page for this minimal fee.
Free 14-Day Trial
If you want to get a feel of Shopify Lite before you commit to it, you can take the platform's 14-day free trial. All you need to do is type in your email address, password, and store name.
If you like, you can take the more expensive Shopify Basic plan for a test run as well.
Easy to Use
You don't have to be a tech expert if you want to sell through Shopify Lite.
For one, the platform is intuitive and relatively easy to use. You don't have to study code to add the buy button or modify it.
Shopify Lite Review: The Cons
While this Shopify Lite review is full of the program's advantages, it does acknowledge these shortcomings as well:
No Online Store Included
While you may be okay with just selling on Facebook, it's good to have your website or domain. Unfortunately, you won't be able to do this if you only have a Shopify Lite account.
Should you decide to create a storefront, you will need to upgrade to a Shopify Basic plan or higher.
Although Shopify Lite makes Facebook or blog selling easy, it's not suitable for some social media platforms.
For one, Shopify Lite will help you sell on Instagram but not on Tumblr. And for you to do so, you will need to pay for the next tier: Shopify Basic.
Limited to Only One Staff Account
As mentioned, Shopify Lite only comes with one staff account. The basic plan comes with two, while the Shopify tier has five. As for the Advanced Shopify program, a total of 15 accounts are given.
While it's okay if you only have a small business, this can be counterproductive if you are making a lot of sales. If you want to fulfill orders at a faster rate, you need to have multiple staff accounts.
If this singular account is getting in the way of transactions, you need to consider upgrading to a higher Shopify tier.
Higher Fees for Credit Cards
What Shopify Lite lacks in account fees, it makes up for in credit card transactions.
In the USA, the fee for online or buy button website purchases is 2.9% plus 30 cents for the online transaction. So, if you make $1,000 every month, you get to lose $348 a year for these transactions.
As for point-of-sale purchases, the fee is lower at only 2.7%. Again, for every $1,000 you make in a month, you need to pay $324 in a year.
If you have the mid-range plan, you will only need to pay 2.4% plus an additional 30 cents for online transactions.
Who Should Be Using Shopify Lite and When Should You Use It?
In terms of selling, Shopify lite benefits some more than others.
That said, this plan is best used by the following people:
Entrepreneurs Who Don't Have Time to Build their Website
Creating your website or online store can take a great deal of time and money. That's because you need to register your domain name, find a host, get an SSL certificate, create a store, and upload products.
You also need to market your new website through events, such as hosting a raffle or giving away gift cards.
If you want to avoid these lengthy steps, the Shopify Lite plan is perfect for you. All you need to do is open a Facebook store or an Instagram shop and link your Shopify account to it.
Sellers Who Sell on Facebook
With the social media syncing features that come with Shopify Lite, it's a must for those who like selling through a Facebook store. It's also recommended for businesses that reap a lot of sales through social media channels.
And with the Facebook chat feature, you can provide support through the platform right away.
Bloggers
Do you have thousands of followers on your blog or vlog site? With Shopify Lite, you can take advantage of the sales you can make within the website.
As it makes the purchase process more manageable, it can help convert onlookers into confirmed buyers.
Businessmen On-the-Go
Even if your website is doing well, selling in-person is another way to augment your sales further. So if you feel the need to join trade shows and bazaars every so often, Shopify Lite is perfect for you.
With its point-of-sale feature, you can process offline sales as you would online.
Companies That Send Multiple Invoices
Do you run a website that sends several invoices frequently? Thanks to Shopify Lite, you can complete this action relatively quickly.
All you need to do is email the invoice and wait for the client to pay the items in his shopping cart. If you want, you can even offer discounts for repeat purchases.
Cottage Industry Businesses
The cottage industry is bound by state restrictions when it comes to selling internationally. Most of the revenue comes from flea markets, trade shows, festivals, and other related events for such companies.
And since cottage industries can only take in-person or phone orders, Shopify Lite can help out with its custom invoicing and point-of-sale features.
A Comparison of Shopify Lite to Other Shopify Plans
In case you don't fit the scenarios stated above, you may want to consider a basic Shopify plan or higher.
Here's an overview of the three other tiers:
Shopify Basic Plans
Shopify Lite vs. Shopify Basic's stark difference is that the latter allows you to create a full online store.
With the built-in theme editor, you can change the page layout, fonts, and colors without using code. As you can add 20 themes to your basic plan, you have the freedom to choose or alternate the design whenever you deem fit.
The basic Shopify plan, which costs $29 a month, also comes with a blogging engine. With this, you could publish articles, promotions, and events through your website or blog.
The Shopify basic plan also comes with an SSL certificate that you can activate for your ecommerce business. With this, you can keep your customers' sensitive data, like payment and card info, secure.
While you can get financial reports simply by using Shopify Lite, the Shopify Basic plan allows you to get hold of more reports. These in-depth documents detail marketing results, store acquisition, and other sales behaviors that can help you boost your sales and revenue.
Shopify Plans
As for the Shopify plan vs. Basic, the former comes with additional professional reports. With these, you can:
Determine the best way to start selling products as dictated by buying trends
Track annual online sales to use in marketing campaigns for your Shopify website or Facebook business page
Check how much sales tax you have collected, thus making the filing process easier
This plan also includes customer reports. Through this, you can see data such as clients by country, one-time customers, returning buyers, and the total volume of clients over time, to name a few.
While it costs $79 a month, this plan is a great way to maximize your online store profits.
Apart from having the many features stated above, it also comes with lower credit card fees. Its transaction fees are markedly cheaper as well.
Advanced Shopify Plans
As Shopify's top-tier plan, this has all the features stated above and so much more.
For one, it has a custom report builder that allows you to create unique reports that you can't find in other plans. With this, you can track sales from Google ads, your Facebook page, or other referral services. Again, these data will be more than useful for your marketing campaigns.
With its advanced customer reporting, you can learn more about your loyal clients, as well as the at-risk ones.
The Advanced Shopify plan also comes with a calculated carrier shipping option. You can integrate this with a third-party shipper so that your buyers see the exact shipping rates for their orders.
And if you're based in the US, this feature entitles you to discounted USPS rates for your Shopify or Facebook store.
While the Advanced Shopify plan can cost you about $299 a month, it can help you save a lot of money in the long run. Apart from offering the lowest transaction fees, it also has cheap fees for stores that accept credit card payments.
Conclusion
If you already have a website, Shopify Lite is an excellent platform for you. With this, you can sell products through Facebook, blog sites, and other channels.
And since it only costs $9 a month, it won't burn much of a hole in your pocket.