If you're looking to start an online handmade business, you need a good eCommerce platform. And while there are many options out there, each has its quirks, benefits, and transaction fees that you need to consider.
So, if you are looking for the best marketplace for your goods, here is a look at some selections: Shopify Fees vs. Etsy Fees vs. Big Cartel vs. Storenvy vs. Tictail Fees.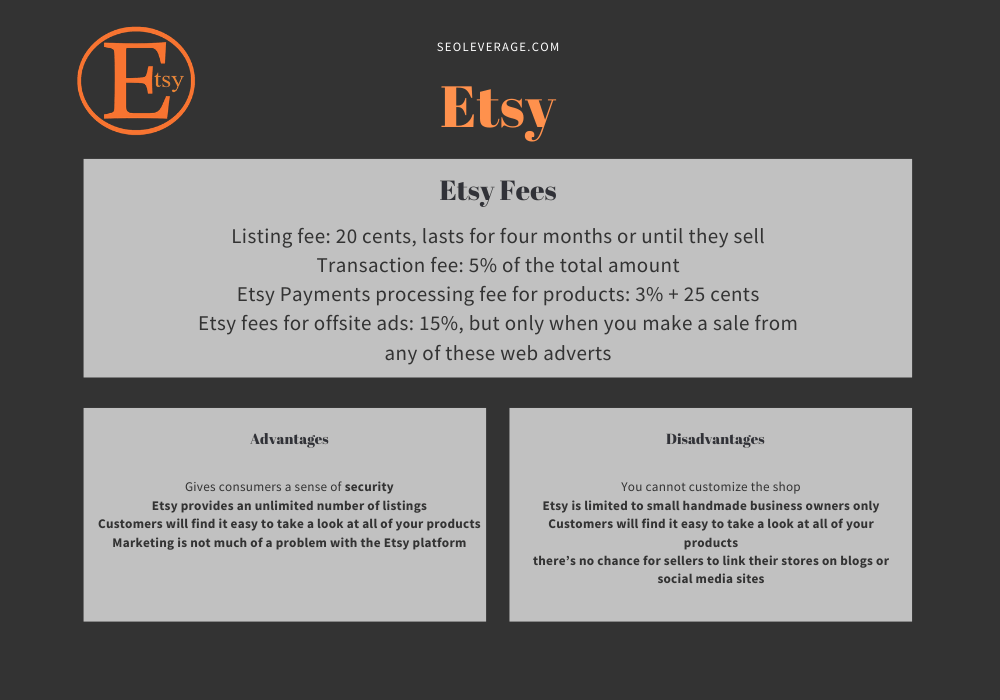 Etsy
Everything hip is happening at Etsy — arguably the world's biggest host for small handmade business owners. Etsy is best compared to Shopify. However, Shopify and Etsy can surely complement each other.
It is known to be simple, transparent, and secure, and it boasts of automatic deposits, seller protection, and safe transactions.
Etsy Fees
Listing fee: 20 cents, lasts for four months or until they sell
Transaction fee: 5% of the total amount
Etsy Payments processing fee for products: 3% + 25 cents
Fees for offsite ads: 15%, but only when you make a sale from any of these web adverts
If you compare Shopify vs. Etsy pricing, Shopify is more likely to be expensive. However, because of transaction costs, Etsy may be more costly in the long term. Etsy sellers must determine how many goods they can sell online.
Advantages
With Etsy being one of the most popular platforms for selling handcrafted goods, you don't have to worry about it closing up shop anytime soon. And if your E-commerce website isn't generating enough revenue, putting your products on Etsy could be a terrific method to boost sales, and this could be one of the advantages of Etsy.
Sense of Security
It also gives consumers a sense of security, meaning that they feel more safe shopping in your Etsy store. As buyers get to provide sellers with a star rating or review, fellow consumers will know that they're embarking on a legit transaction.
Etsy is a little less in-depth in terms of ease of use, but it's quite clear and simple for small businesses.
Niche Markets
In a nutshell, you sell on Etsy because of the niches. That is, it is beneficial to E-commerce. Etsy provides an unlimited number of listings as well. You can post 100+ well-known products as long as you pay the listing amount of 20 cents for each.
Customers will find it easy to take a look at all of your products, many thanks to Etsy's comprehensive search feature. Marketing is not much of a problem with the Etsy marketplace platform too. Since it is renowned worldwide, you don't have to attract customers to sell online through social media — they will readily come to you.
Simple to Use
You can work on enhancing things to sell and then selling them in your store rather than thinking about what typeface to use or what credit card operator you'll require. Etsy is set up in such a way that anyone can utilize it.
Some e-commerce platforms demand coding expertise, design experience, or a significant amount of time to set up, but Etsy allows you to create a shop in minutes. If thinking of using platforms to sell, you should consider the difference between Shopify or Etsy and other platforms.

This platform also launches a service that is called a "pattern." This Etsy pattern makes the selling transaction easier.
Disadvantages
Although Etsy can help you make good sales, it comes with some cons, too.
Customization is not allowed.
You cannot customize the Etsy shop, which is its waterloo in the Shopify vs. Etsy comparison. Because you're selling on Etsy, the platform frequently has the final say over what happens rather than the seller.
If a rule infringement is suspected, the platform has the authority to shut down a store quickly and without warning.
It will become pricey over time.
Etsy payments are quite expensive, too, which is a drawback to sellers searching for a cheaper site. Every platform has costs that sellers must pay.
As such, Etsy is a marketplace. Otherwise, a seller may not make enough money on the sale to make a profit if you'll not consider the payment.
It becomes saturated with handcrafted and vintage goods.
In addition, Etsy shops are limited to small handmade business owners only. Unless you are selling supplies, vintage products, or handmade goodies, you will need to look for another eCommerce platform.
Although Etsy markets itself rather well, there's no chance for sellers to link their online stores on blogs or social networking sites.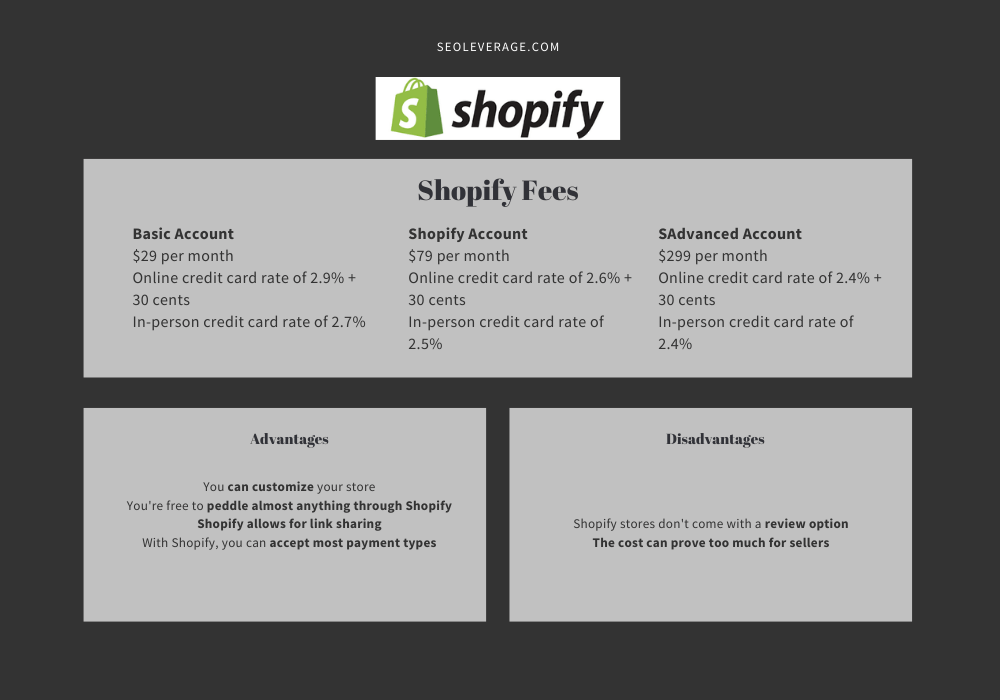 Shopify
Shopify is an eCommerce platform that mostly caters to medium to large businesses. Despite this, it proves to be one of the best alternatives for those looking to start a small online store and excels at ease of use.
Shopify Pricing And Fees
Basic Shopify Plan
$29 per month
Online credit card rate of 2.9% + 30 cents
In-person credit card rate of 2.7%
Shopify Account
$79 per month
Online credit card rate of 2.6% + 30 cents
In-person credit card rate of 2.5%
Advanced Shopify Account
$299 per month
Online credit card rate of 2.4% + 30 cents
In-person credit card rate of 2.4%
Advantages
Shopify is a website that allows you to set up your own online store. Here are a few perks to think about.
Best for customization
If you want to customize your store, Shopify is the best eCommerce website for you. With this, you can create a Shopify store that reflects your brand. It gives you a variety of 'themes' to choose from, all of which can be adjusted to match your own branding needs, and it lets you sell both physical and digital things.
It's simple to set up and utilize.
Shopify and Etsy will have the same perks of how easier it is to set up. But unlike Etsy, you're free to peddle almost anything through Shopify. So, while it's a good host for small handmade goods, you can use it for selling commercial goods, too.
With its bulk listing feature, you can upload all your well-known products in just a few clicks.
Shopify offers for link sharing ,too. That way, you can share your listing on your blog site or social media page and give it a chance to go viral.
With Shopify, you can accept most payment types, including credit cards, PayPal, and Apple Pay.
Shopify App store
Shopify is known for its mobile-friendliness and better customer support. But aside from that, it has additional features you need to consider.
This store is a gold mine of features you can add to your store. You can add reviews, and special offers, as well as gain in-depth analytics, interface with accounting software, and use any of the marketing applications available.
Abandoned cart recovery
What happens if a customer adds a product to their shopping cart but then leaves without purchasing it?
Shopify features an abandoned checkout cart recovery service that records and emails these potential customers to remind them to finish their purchase; it's a simple approach to potentially increase income.
Disadvantages
Shopify's success does not imply that it is unrivaled, as an e-commerce platform will not be ideal for every type of business.
We've put up a list of Shopify's drawbacks and key differences to help you decide if it's the right e-commerce platform for you.
Scalability— unready for the future
Shopify can't handle a huge number of consumers or a wide variety of products in an online marketplace. Shopify is unable to take large-scale stock and exchange concerns that may occur in huge businesses.
No Content Management System
As a result, you won't be able to include a wide range of content, such as films, alongside your products. Although Shopify has its own blogging system, it is not the most popular blogging platform when compared to WordPress because some layout possibilities are limited. Though Shopify payments can be everything, some features can't be found on this platform.
Pay more for customization if you need to design something particular for your eCommerce store
Shopify stores don't come with a review option, which may be a boon to most buyers. While Shopify has all the features you can look for in an online marketplace, the cost can prove too much for sellers, something like Etsy.
So, if you want to look at some cheaper alternatives, you should consider its other offer: Shopify Lite.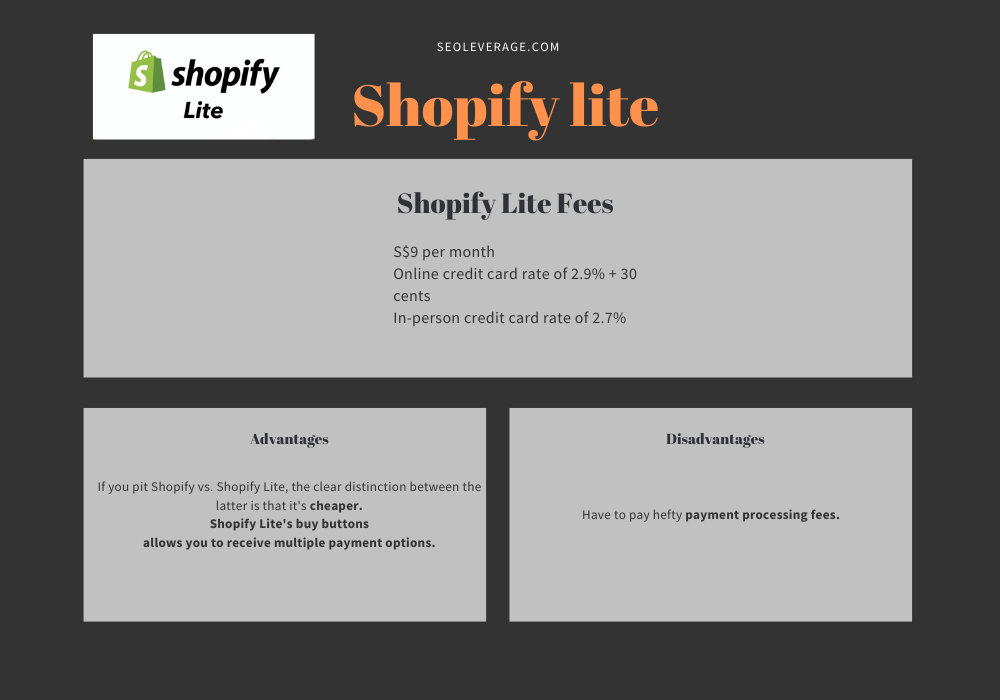 Shopify Lite
If you want to sell online, Shopify Lite is a cheaper service when put head-to-head vs. Shopify. As such, it comes with basic amenities — affordable alternatives for those looking to start selling.
Shopify Lite Fees
$9 per month
Online credit card rate of 2.9% + 30 cents
In-person credit card rate of 2.7%
Advantages
If you put Shopify vs. Shopify Lite, the clear distinction between the latter is that it's cheaper.
With Shopify Lite's buy buttons, you can transform your blog site or social media page into an instant store.
Like Shopify, this platform allows you to receive multiple payment options. You can even use this Shopify Lite app store for in-person events, such as trade shows or bazaars.
Disadvantages
Unless you have a standalone shop, you won't be able to use Shopify Lite. Also, you would have to pay a hefty payment processing fee. If you're eager to get started, or if you're still undecided, Shopify's 14-day trial allows you to try both plans before you buy.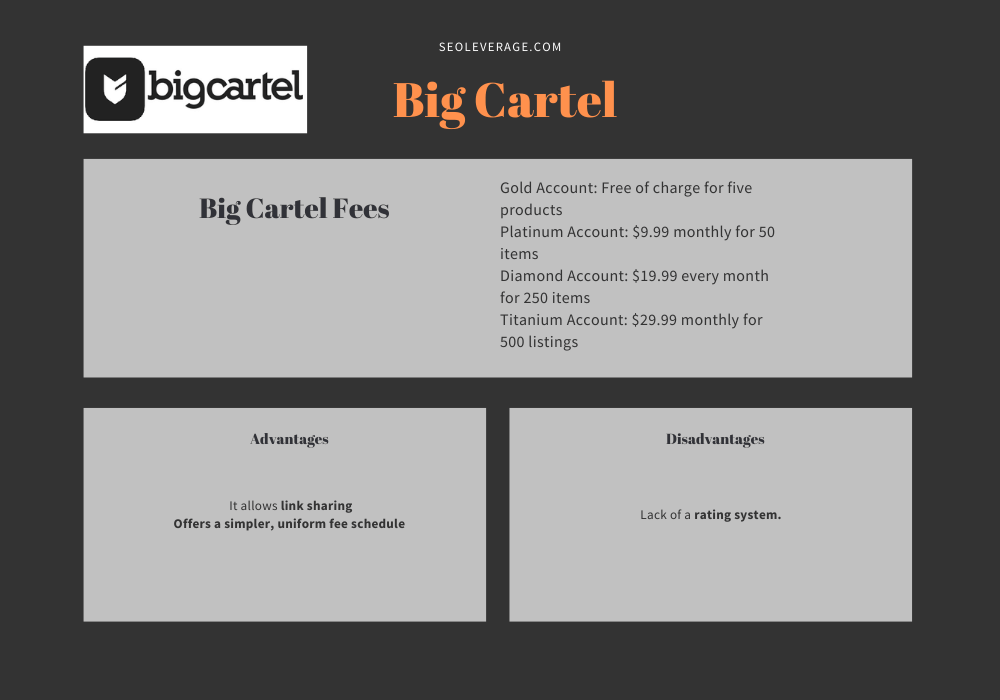 Big Cartel
Founded in 2005, Big Cartel helps artists and makers start an online handmade business. It comes with a hip, artistic vibe that will indeed reflect your customized goods.
This platform allows a free plan and each Big Cartel's pricing plans, depending on its features.
Bigcartel Pricing and Fees
Gold Account: Free of charge for five products
Platinum Account: $9.99 monthly for 50 items
Diamond Account: $19.99 every month for 250 items
Titanium Account: $29.99 monthly for 500 listings
Advantages
Although Shopify vs. Big Cartel is often a big point of contention, these platforms have several similarities. For Shopify vs. Etsy vs. Big cartel, these three platforms have different perks and drawbacks.
Customizable
For one, Shopify and Big Cartel offer store customization features. Big Cartel also doesn't restrict listings. On Big Cartel's premium plans, you can list up to five photos per product.
You may include many product selections at various price points in your list. If you wish to sell digital products, you can do that with integration.
Multi-channel selling
Big Cartel and Shopify also allow link sharing, especially if you want to promote your shop through social media. Besides, Big Cartel will enable you to sell in person, online, and on Facebook. This is a piece of good news when purchasing this platform.
Free features
A good thing about the Big Cartel vs. Shopify debate is that the former offers a simpler, uniform fee schedule. You don't have to worry about credit card processing fees and whatnot — all you need to do is pay the monthly subscription. Despite the fact that Big Cartel isn't known for having a lot of frills, here are some things you won't have to pay for:
Platform Security
Search Engine Optimization
Order Management
Customer Support
Disadvantages
Big Cartel is a platform that assists independent artists, photographers, artisans, bakers, authors, and other types of creators in their efforts to create and sell items that they believe in. And it does it in a format that is simple to use.
However, there could be a few disadvantages you need to consider with this platform.
Not ideal for larger stores or a store that needs advanced capabilities
Versus Shopify, Big Cartel offers fewer listing options. Because of the fixed monthly fee, you need to pay the amount whether or not you make sales. Unfortunately, this can take a toll on your finances if sales are particularly slow.
Lack of search functionality
As for Big Cartel vs. Etsy, the latter wins because of its review feature. If you've already catered to many buyers, your new customers won't know because of the lack of a rating system.
Less flexibility
Big Cartel is a self-contained platform that is harder to manipulate than other platforms. This means you'll have fewer customization options and will be more reliant on your Big Cartel site's out-of-the-box structure.
Limited payment options
You have two payment choices with a Big Cartel store: Stripe or PayPal. For the most part, this should suffice, as long as you provide your clients enough flexibility to avoid compromising conversions just for efficiency.
However, there are certain issues with these online payments, particularly with PayPal, and it's possible that your business may profit from providing extra payment options, which Big Cartel may not allow.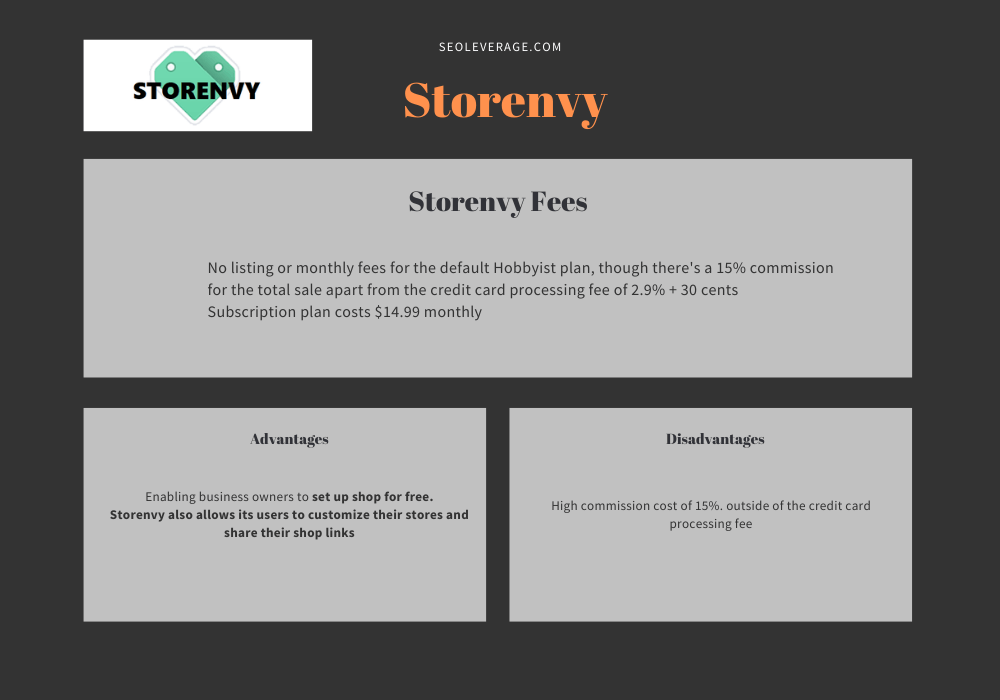 Storenvy
Storenvy is a marketplace for buyers who wish to buy directly from indie brand owners like you. To open a free store, all you need to do is sign up. Storenvy is best described as an online platform for independent vendors and buyers. Storenvy can be thought of as a collection of internet retailers owned by individual entrepreneurs.
Storenvy Fees
No listing fees or monthly fees for the default Hobbyist plan, though there's a 15% commission for the total sale apart from the credit card processing fee of 2.9% + 30 cents
Subscription plan costs $14.99 monthly.
Advantages
Storenvy is a newer online platform. Thus it doesn't yet have the market share of eBay or Etsy. However, if they can keep their marketplace viable, that could change. However, it has an advantage over the competition in that it has a creative design that allows merchants to start a shop for free.
Excellent value for money
There are a lot of people pitting Storenvy vs. Tictail, but the truth is that these platforms are eCommerce cousins. As such, they follow the same model of enabling business owners to set up shop for free. Unlike Etsy, there are no fees associated with listing on the marketplace, and you can start a free online store.
A fully independent store
In terms of the Big Cartel vs. Storenvy debate, the latter shows that it can hold a candle against the former. That's because Storenvy also allows its users to customize their stores and share their shop links. It also doesn't restrict the number of listings, just as Big Cartel would.
Disadvantages
While Storenvy doesn't come with listings or membership fees, it does levy a high commission cost of 15%. This is outside of the credit card processing fee, which eventually strips off about 20% of your total earnings.
Aside from that, this platform is not SEO-friendly. Subdomains, the lack of a blogging function, and the failure to adopt Google Search Console are all significant search engine ranking penalties.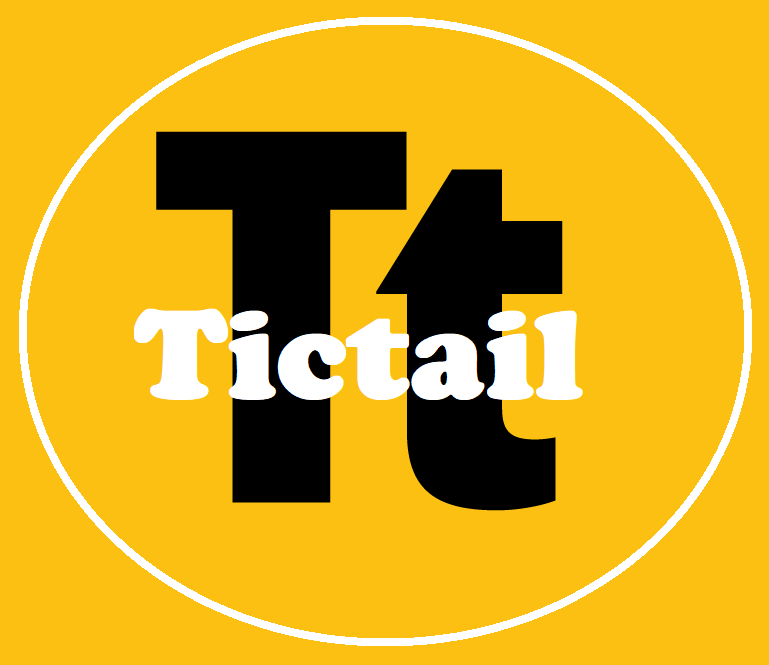 Tictail
Tictail has recently been made part of Shopify. So, to start an online store on this platform, you need to use Shopify. Its transaction fees, advantages, and disadvantages are the same as Shopify.
The Pros & Cons of Tictail
Wouldn't it be best to create your own ecommerce business on a platform that also contains a community of individuals interested in discovering and supporting new and growing brands?
Tictail comes into play in this situation.
Tictail offered "theme customizations" to select merchants who switched to Shopify, though it's unclear if this is just available to merchants with a premium Tictail shop. Aside from that, Tictail's Go Shopping section is its basic distinguishing feature since it organizes all of its stores into categories for customers to come and discover indie products that they wouldn't find anywhere else on the internet.
It's similar to Etsy, but it has a more modern style with enormous banners for categories like the great outdoors, holidays, fashion, and pet-related stuff.
In terms of drawbacks, the payment processors aren't many, and the customer service isn't flawless, but they get the job done, especially considering you receive it all for free.
Ecommerce Platform Breakdown: Which is the Best?
Your decision should depend on several things. The first is how many products you wish to list, as this will dictate the cost you need to pay.
If you only have a small array of different products like vintage items – say, less than five – get the Big Cartel Gold account. However, if you want to list more, here's a computation of the fees and total pricing plans you could incur for 25 items costing $5 each, granted they all sell within the month:
Etsy - $21.25 ($5 of this is good for four months - listing cost)
Shopify - $40.12 for a Basic Shopify Account
Shopify Lite - $20.12
Big Cartel - $9.99 (Platinum account)
Storenvy - $26.25
Tictail - $40.12 (same with Basic Shopify)
The Big Cartel pricing plans on the Platinum account is the cheapest marketplace, though this plan is only limited to 50 items. Should you wish to list more (about 250 products), you need to upgrade to the Diamond Account at $19.99 monthly.
The next option to consider is Shopify Lite. However, you should already have a store to use this.
Although Etsy seems to be the third cheapest option, the amount of $21.25 is only for the first month. For the next three months, you only need to pay $16.25 as the listing fee is good for four months.
The rest may be more expensive options, but they come with advantages you will not find on other platforms.
So there you have it — a head-to-head of Shopify vs. Etsy vs. Big Cartel vs. Storenvy vs. Tictail. Now that you know the fees and their features, you can decide which is the best marketplace for your online store.