If you're looking to start an online handmade business, you need a good eCommerce platform. And while there are many options out there, each has its quirks, benefits, and transaction fees that you need to consider.
So, if you are looking for the best marketplace for your goods, here is a look at some selections: Etsy vs. Shopify vs. Big Cartel vs. Storenvy vs. Tictail.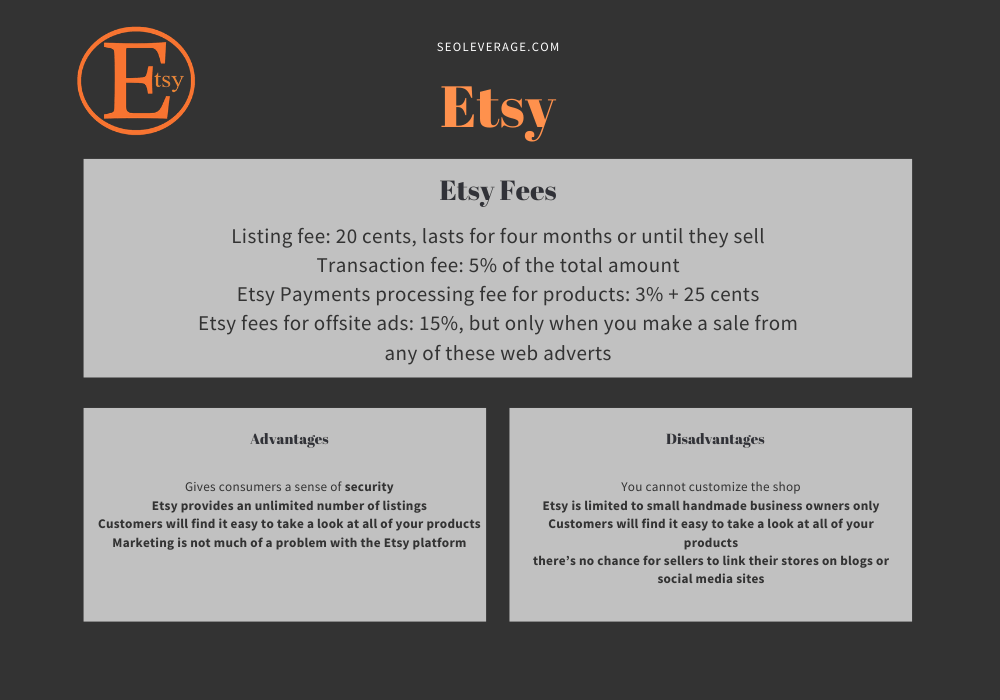 Etsy
Everything hip is happening at Etsy — arguably the world's biggest host for small handmade business owners.
Known to be simple, transparent, and secure, it boasts of automatic deposits, seller protection, and safe transactions.
Etsy Fees
Listing fee: 20 cents, lasts for four months or until they sell
Transaction fee: 5% of the total amount
Etsy Payments processing fee for products: 3% + 25 cents
Etsy fees for offsite ads: 15%, but only when you make a sale from any of these web adverts
Advantages
With Etsy being one of the most popular platforms for selling handcrafted goods, you don't have to worry about it closing up shop anytime soon.
It also gives consumers a sense of security, meaning that they feel more safe shopping in your Etsy store. As buyers get to provide sellers a star rating or review, fellow consumers will know that they're embarking on a legit transaction.
Etsy provides an unlimited number of listings as well. You can post 100+ products, as long as you pay the listing amount of 20 cents for each.
Customers will find it easy to take a look at all of your products, many thanks to Etsy's comprehensive search feature.
Marketing is not much of a problem with the Etsy marketplace platform, too. Since it is renowned worldwide, you don't have to attract customers through social media — they will readily come to you.
Disadvantages
Although Etsy can help you make good sales, it comes with some cons, too.
You cannot customize the Etsy shop, which is its waterloo in the Etsy vs. Shopify comparison. Etsy payments are quite expensive, too, which is a drawback to sellers searching for a cheaper site.
In addition, Etsy shop is limited to small handmade business owners only. Unless you are selling supplies, vintage products, or handmade goodies, you will need to look for another eCommerce platform.
Although Etsy markets itself rather well, there's no chance for sellers to link their online stores on blogs or social networking sites.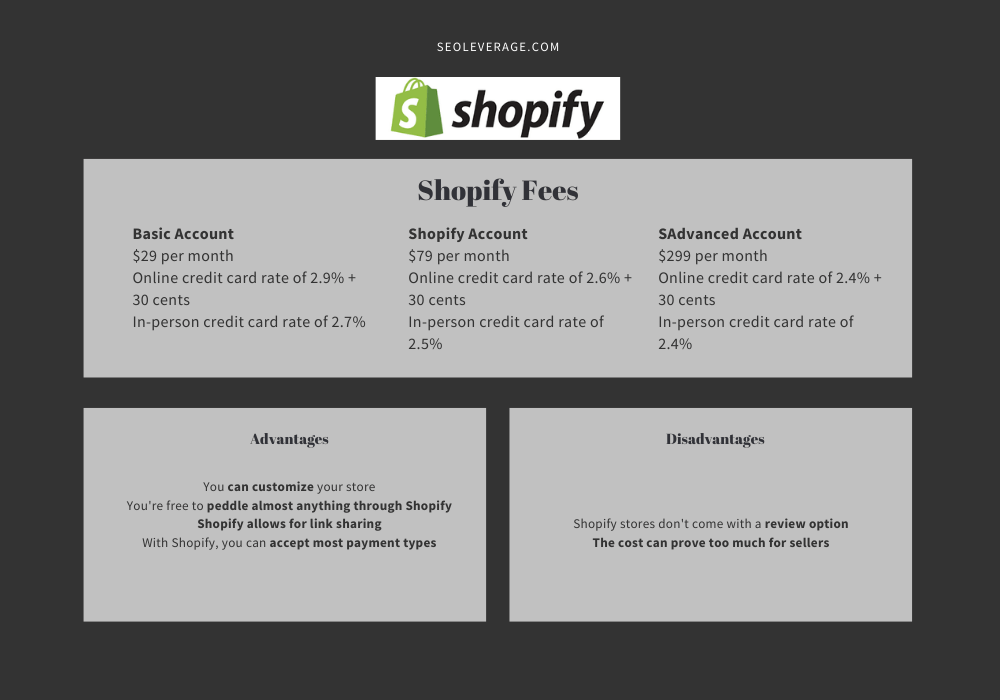 Shopify
Shopify is an eCommerce platform that mostly caters to medium to large businesses. Despite this, it proves to be one of the best alternatives for those looking to start a small online store.
Shopify Pricing And Fees
Basic Account
$29 per month
Online credit card rate of 2.9% + 30 cents
In-person credit card rate of 2.7%
Shopify Account
$79 per month
Online credit card rate of 2.6% + 30 cents
In-person credit card rate of 2.5%
Advanced Account
$299 per month
Online credit card rate of 2.4% + 30 cents
In-person credit card rate of 2.4%
Advantages
If you want to customize your store, Shopify is the best eCommerce website for you. With this, you can create a store that reflects your brand.
Unlike Etsy, you're free to peddle almost anything through Shopify. So, while it's a good host for small handmade goods, you can use it for selling commercial goods, too.
With its bulk listing feature, you can upload all your well known products in just a few clicks.
Shopify offers for link sharing ,too. That way, you can share your listing on your blog site or social media page and give it a chance to go viral.
With Shopify, you can accept most payment types, including credit cards, PayPal, and Apple Pay.
Disadvantages
Shopify stores don't come with a review option, which may be a boon to most buyers.
While Shopify has all the features you can look for in an online marketplace, the cost can prove too much for sellers, something like Etsy.
So, if you want to look at some cheaper alternatives, you should consider its other offer: Shopify Lite.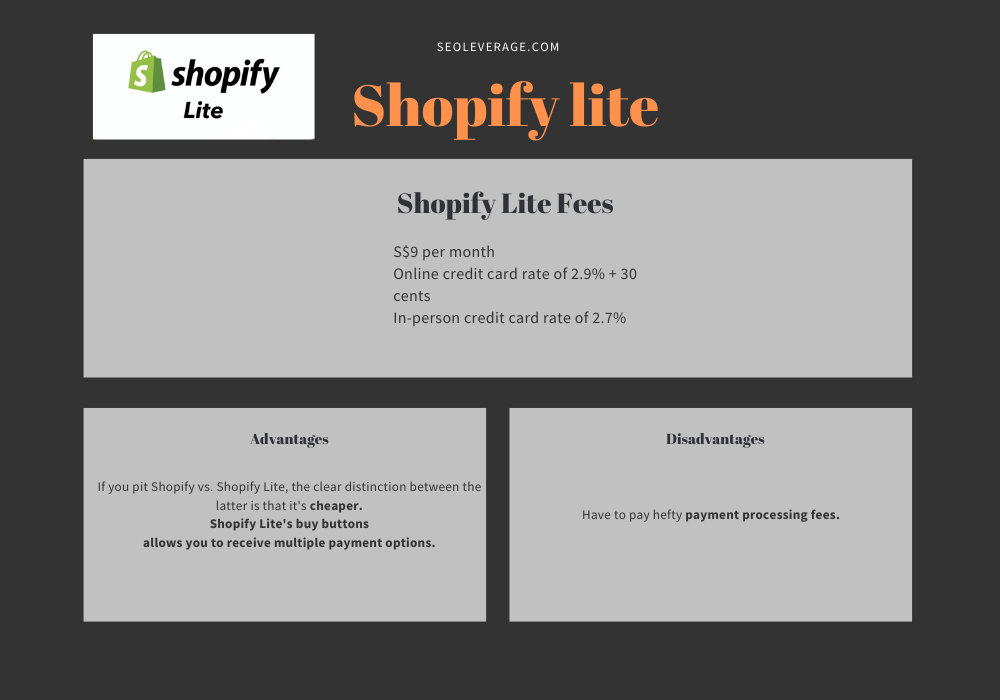 Shopify Lite
Shopify Lite is a cheaper service when put head-to-head vs. Shopify. As such, it comes with basic amenities — affordable alternatives for those looking to start selling.
Shopify Lite Fees
$9 per month
Online credit card rate of 2.9% + 30 cents
In-person credit card rate of 2.7%
Advantages
If you pit Shopify vs. Shopify Lite, the clear distinction between the latter is that it's cheaper.
With Shopify Lite's buy buttons, you can transform your blog site or social media page into an instant store.
Like Shopify, this platform allows you to receive multiple payment options. You can even use this Shopify Lite for in-person events, such as trade shows or bazaars.
Disadvantages
Unless you have a standalone shop, you won't be able to use Shopify Lite. Also, you would have to pay hefty payment processing fees.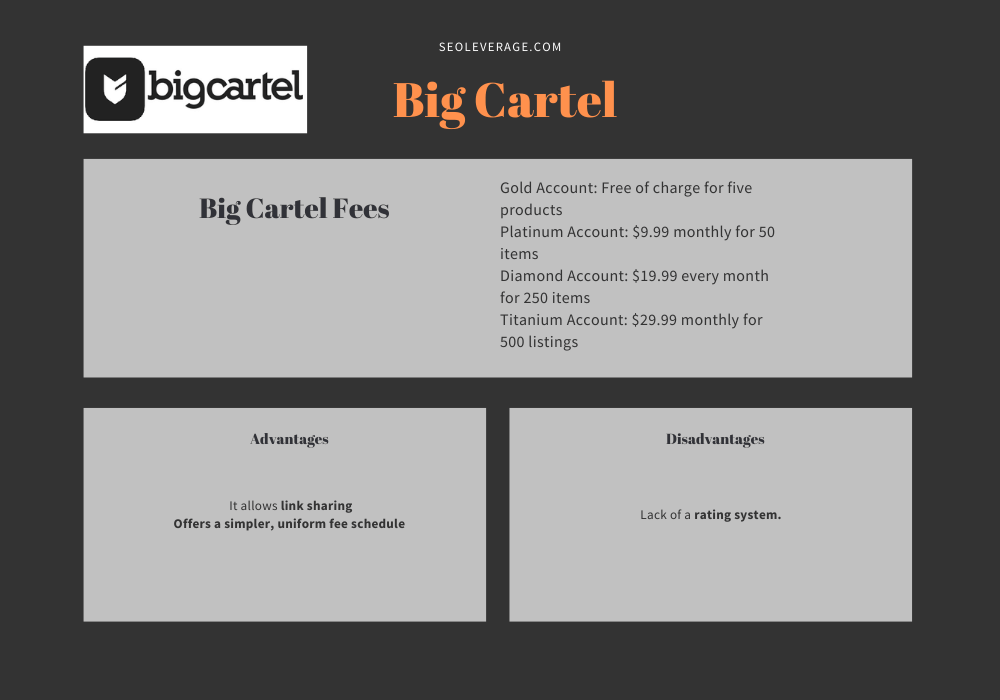 Big Cartel
Founded in 2005, Big Cartel helps artists and makers start an online handmade business. It comes with a hip, artistic vibe that will indeed reflect your customized goods.
Big Cartel's Fees
Gold Account: Free of charge for five products
Platinum Account: $9.99 monthly for 50 items
Diamond Account: $19.99 every month for 250 items
Titanium Account: $29.99 monthly for 500 listings
Advantages
Although Shopify vs. Big Cartel is often a big point of contention, these platforms have several similarities.
For one, Shopify and Big Cartel offer store customization features. Big Cartel also doesn't restrict listings. Big Cartel and Shopify also allows link sharing, especially if you want to promote your shop through social media.
A good thing about the Big Cartel vs. Shopify debate is that the former offers a simpler, uniform fee schedule. You don't have to worry about credit card processing fees and whatnot — all you need to do is pay the monthly subscription.
Disadvantages
Versus Shopify, Big Cartel offers fewer listing options. Depending on your account, you may only list five items.
Because of the fixed monthly fee, you need to pay the amount whether or not you make sales. Unfortunately, this can take a toll on your finances if sales are particularly slow.
As for Big Cartel vs. Etsy, the latter wins because of its review feature. So, even if you have already catered to many buyers, your new customers won't know because of the lack of a rating system.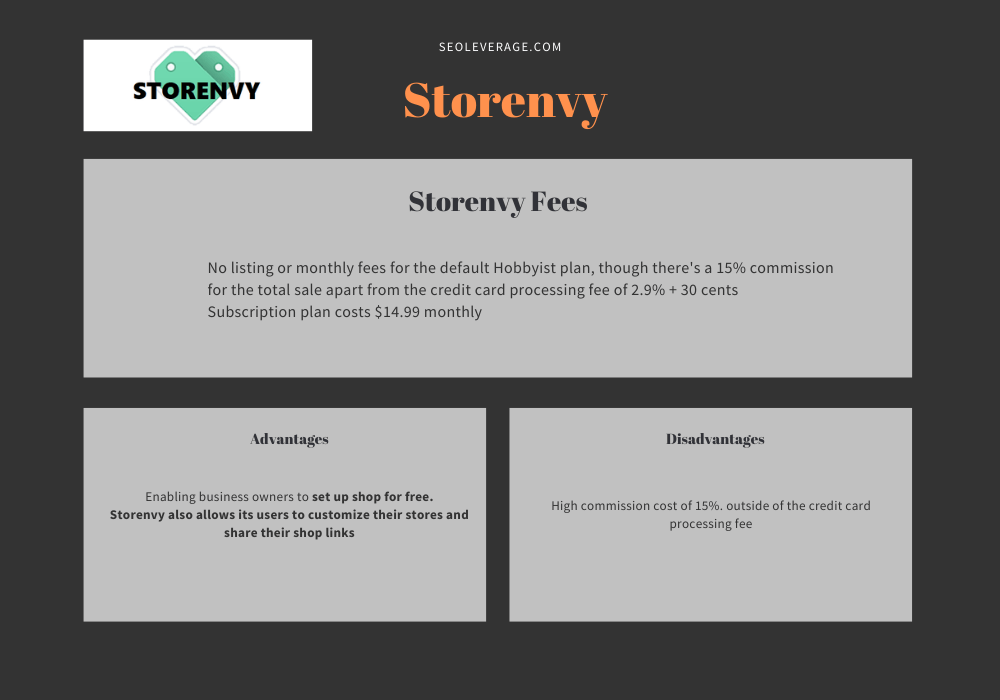 Storenvy
Storenvy is a marketplace for buyers who wish to buy directly from indie brand owners like you. To open a free store, all you need to do is sign up.
Storenvy Fees
No listing fees or monthly fees for the default Hobbyist plan, though there's a 15% commission for the total sale apart from the credit card processing fee of 2.9% + 30 cents
Subscription plan costs $14.99 monthly
Advantages
There are a lot of people pitting Storenvy vs. Tictail, but the truth is that these platforms are eCommerce cousins. As such, they follow the same model of enabling business owners to set up shop for free.
In terms of the Big Cartel vs. Storenvy debate, the latter shows that it can hold a candle against the former. That's because Storenvy also allows its users to customize their stores and share their shop links. It also doesn't restrict the number of listings,just as Big Cartel would.
Disadvantages
While Storenvy doesn't come with listings or membership fees, it does levy a high commission cost of 15%. This is outside of the credit card processing fee, which eventually strips off about 20% of your total earnings.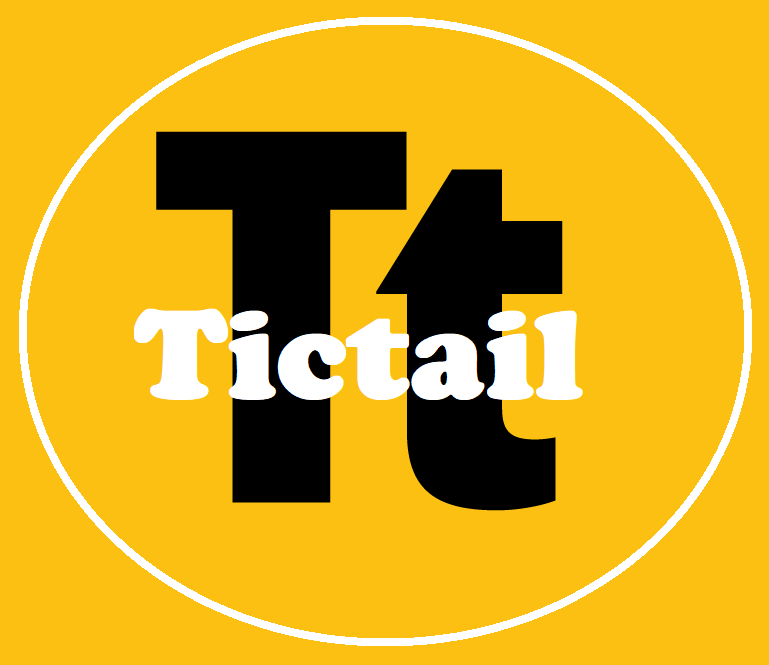 Tictail
Tictail has recently been made part of Shopify. So, to start an online store on this platform, you need to use Shopify.
Its transaction fees, advantages, and disadvantages are the same as Shopify.
Etsy vs. Shopify vs. Big Cartel vs. Storenvy vs. Tictail: Which is the Best?
Your decision should depend on several things. The first is how many products you wish to list, as this will dictate the cost you need to pay.
If you only have a small array of different products like vintage items – say, less than five – get the Big Cartel Gold account.
However, if you want to list more, here's a computation of the fees you could incur for 25 items costing $5 each, granted they all sell within the month:
Etsy – $21.25 ($5 of this is good for four months – listing cost)
Shopify – $40.12 for a Basic Shopify Account
Shopify Lite – $20.12
Big Cartel – $9.99 (Platinum account)
Storenvy – $26.25
Tictail – $40.12 (same with Basic Shopify)
The Big Cartel's Platinum account is the cheapest marketplace, though this plan is only limited to 50 items. Should you wish to list more (about 250 products), you need to upgrade to the Diamond Account at $19.99 monthly.
The next option to consider is Shopify Lite. However, you should already have a store to use this.
Although Etsy seems to be the third cheapest option, the amount of $21.25 is only for the first month. For the next three months, you only need to pay $16.25 as the listing fee is good for four months.
The rest may be more expensive options, but they come with advantages you will not find on other platforms.
So there you have it — a head-to-head of Etsy vs. Shopify vs. Big Cartel vs. Storenvy vs. Tictail.
Now that you know the fees and their features, you can decide which is the best marketplace for your online store.