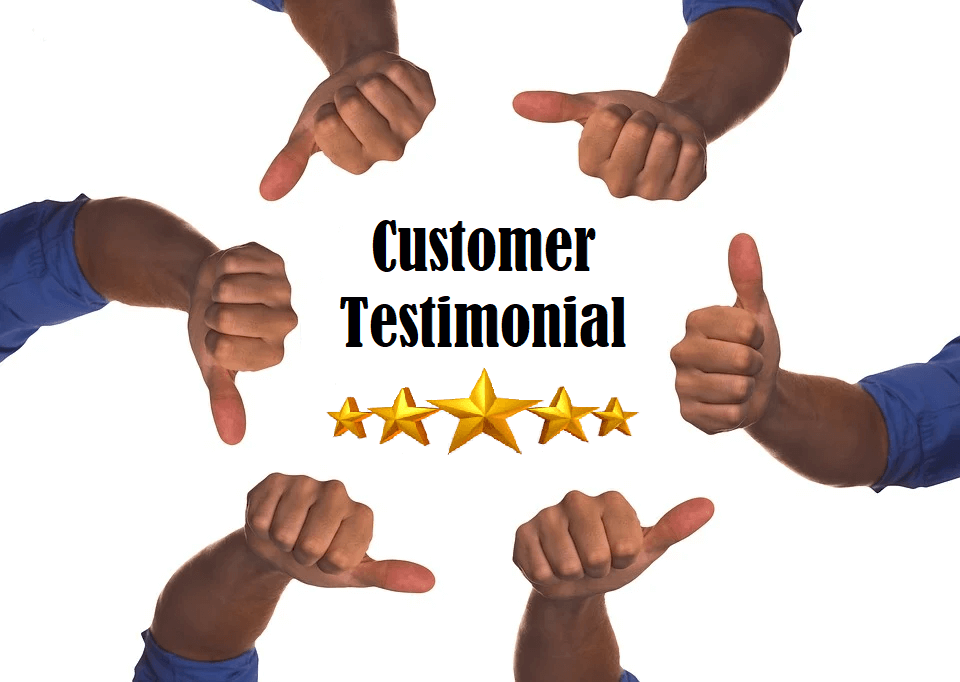 Are you still thinking twice about starting a customer testimonial page?
While you might see this only as an option, it actually makes your Shopify store a lot better. After all, it is a form of social proof that can help increase conversions and improve search engine rankings.
If you're looking to make a great testimonial page, then you have come to the right page. Here, you'll learn more about customer reviews, including some examples you should take for inspiration.
Why You Need a Customer Testimonial Page
It Builds Trust — and Sales!
A customer review is considered a powerful type of social proof and trust. It revolves around the idea that people are more likely to follow another person's action because he/she assumes it to be correct.
Just think of a brand that features your favorite actor. If he attests to the benefits of a specific item, there is a good chance that you and other customers will avail of it.
It's the same way with testimonial pages. Even if you don't personally know the person who wrote the reviews, the positive comments are sure to influence customers' decisions.
As you see, this benefit is no mere claim. These numbers support it:
92% of clients read customer reviews before buying.
88% of consumers make online purchase decisions according to the reviews they have read.
72% of buyers trust a business with positive customer testimonials.
97% of B2B companies consider the customer testimonial page as very reliable content.
It's Good for SEO
Apart from increasing your sales, testimonial pages can help improve your search engine rankings, too.
For one, a customer testimonial page can boost long-tail keyword traffic. You don't have to use this for every product description as the clients are readily doing this for you.
As such, it's not surprising that this fresh, user-generated content corresponds to 9.8% of the total ranking factors. That's because testimonials capture these qualities that search engines look for:
Uniqueness – Each customer review is fresh. You simply won't find such content on another site.
Relevance – Reviews, whether through text or videos, are on-topic material for the page.
Helpfulness – As mentioned, testimonials influence the customers' purchase decisions.
Valuable – A review features information that you won't find anywhere else.
Potentially Viral – Customers can share their reviews via different social media platforms.
A customer testimonial page can also help you earn a star rating. Again, this can promote trust, leading to more traffic and better SEO rankings.
The Best Customer Testimonial Page Examples for Inspiration
Looking to unlock the potential features of customer testimonials?
Here are the testimonial page examples your business should see and emulate:
Shopify
Since you're thinking of creating a testimonial page for your Shopify store, you might as well take inspiration from the platform.
The website is relatively straightforward with its goal, as it opens up with the statement, "Find out why the world's best brands choose Shopify Plus."
The Shopify main testimonial page is a collection of testimonials flanked with quality photos and company quips. Since the list is quite long, you can always filter the choices according to use case, industry, and previous platforms.
Each testimonial is a case study that tells a story. First, it chronicles the challenge each company faced.
As is the case of Gymshark, it suffered a significant drawback when its Magento store broke down during the hottest shopping day of the year: Black Friday. Because of this eight-hour blackout, Gymshark lost as much as $130,000 in revenue.
After the challenge came the solution: Shopify. With the stories and videos detailing how Gymshark benefitted from Shopify POS, the review ends with the company's stunning results.
Expectedly so, Shopify helped the store amass as much as $54 million in sales. At the same time, it allowed the company to earn an additional 5.1 million social media followers.
Shopify's review page also has a chat feature via the Shopify bot. Here, customers have the option to contact support, migrate platforms, and check pricing.
By providing all the needed elements in a customer testimonial page, Shopify's testimonial page can work with customers at each buying process stage.
Help Scout
Like other companies that offer customer support software, Help Scout comes with a stellar customer testimonial page.
Right out the block, Help Scout flaunts the way it assisted 10,000 companies.
It takes a subtle approach at the top since it only shows the companies' small logos. But as you scroll down further, you get to see the businesses using their service.
A great thing about Help Scout is that it makes use of text and video testimonials. The videos are right smack at the center, so you get to view the customer testimonial right away. It is built in a documentary format, with the customers talking about their companies and how Help Scout has helped them.
The videos are also surrounded by different stories, with quotes detailing the business and its service.
What's great about Help Scout is that it utilizes the site for marketing. With its chat feature and free 15-day trial offer, it's an example for making sales through your customer testimonial page.
Zendesk
Zendesk is an American company that offers customer service software. Expectedly so, its website provides one of the best examples of a customer testimonial page.
Near the top of the page is the featured company — and right now, it's GrubHub. From this alone, you'll see that the company is dealing with major players.
With this on their website, Zendesk readily promotes authority and trust.
The GrubHub feature also details some impressive numbers: 100% ticket volume growth, 90% CSAT. These figures alone are enough to make potential customers click on the product.
Below the featured GrubHub brand is an organized array of customer testimonials from various companies. Each business is duly represented by a thumbnail that captures its service, as well as its stories.
Like the Shopify review page, Zendesk allows the client to refine his/her search according to region, industry, and business challenges.
While the Zendesk customer testimonial page is considered one of the best, it misses an important opportunity: video testimonials.
As it's easier for customers to process visual data instead of text, videos are still the best for promoting a product and its features.
HubSpot
Whatever software platform you are using, there's a good chance that HubSpot has it.
After all, it specializes in customer service, CRM, sales, and marketing. And unlike other companies, it refers to its testimonial pages as case studies.
Its top case study is CancerIQ, a software that offers genetic cancer risk assessment. This segment showcases text and video testimonials of how HubSpot helped it generate leads and complete sales.
After this focal video comes case studies of different companies, including quotes from managers who use the service.
If you want to know more about what HubSpot can do for your business, you can always read the testimonials from similar companies. Whether you're specializing in manufacturing, professional services, software, or consumer services, there's a case study for you.
Outside of its customer testimonials, the HubSpot page has a dedicated prime space for their star ratings. With reviews from Gartner Peer Insights, Leader Enterprise, and Top Rated, this is the best way to see the brand in a positive light.
Like Help Scout, the HubSpot case studies page comes with a live chat feature. However, unlike the former, it provides customers with two options: You could either ask a question about HubSpot's services or opt to go ahead and read the testimonials.
The site also comes with a sign-up option, where customers can get HubSpot products for free.
Bizzabo
Bizzabo is a top event software company. Used for event planning and marketing, it has a customer testimonial page like what you share on social media. Its Twitter-like interface shows quotes from customers detailing how Bizzabo has helped them.
Apart from these short quips, Bizzabo also details their customers' interesting case studies. Flanked with vibrant pictures and positive quotes, they explain how the brand has made things work.
Similar to other testimonial pages, Bizzabo highlights its 5/5 star rating from Capterra. As it also comes with a video testimonial, the page offers an engaging way of promoting the company.
With its Get your Free Demo CTA, Bizzabo is proof that you can yield conversions with case studies.
Xero
Xero is a New Zealand-based company that specializes in business and accounting software. It is straight to the point — telling the reader that it has two million subscribers under its belt.
Each case study is represented by an 'in action' image. Compared to other testimonial pages, the write-up shows how the business benefits from the product. This makes the page an excellent read. That's because customers are after the hows and whys, and not necessarily the whats.
While the page does not have a video testimonial, it has a video header. Featuring smiling customers, this video can make you feel like you've come to the right page.
It also comes with a Learn More button, which is useful for customers considering using the product.
Given five-star badges from Canstar, the page further cements the brand's reputation and trustworthiness.
ChowNow
The pandemic has seen a further rise in online ordering systems, an excellent example of which is ChowNow. True to its name, this commission-free app is all about connecting customers with their favorite local restaurants.
ChowNow's testimonial page commences with a pop-up design that's sure to catch your eye. After all, it highlights the story of how a company grew its sales by 138% while reducing commissions by 100%.
ChowNow is one of the few examples where the best video testimonials take center stage.
For one, there's a prominent feature awaiting you front and center. Add to that, it shows quotes detailing the service and how it has helped the company.
Below are a couple more videos, with each restaurateur sharing their cuisine and ChowNow review.
As with most pages, the ChowNow page also comes with a chat feature. Here, you can ask for help or learn more about how the product can benefit your company.
HootSuite
Founded in 2008, HootSuite is a social media platform known for using a dashboard design. With this product, users can integrate networks such as Twitter, Facebook, YouTube, LinkedIn, and Instagram.
Unlike other testimonials, HootSuite calls its case studies as success stories. True enough, this page demonstrates how the product has helped 18 million customers succeed.
It is interesting to note that HootSuite's main site is devoid of videos. You can, however, watch these testimonials by clicking on the case study link.
If you want to stay within the page, you could always read its text reviews. The sepia photos and quotable quotes are very engaging that you might find yourself clicking on the case studies, anyway.
HootSuite is also a good example of using numbers — and the word 'how' — for testimonials. The headline "How the British Museum Increased Social Media Engagement by 156%" has convinced many to click on the case study review.
One of the great things about HootSuite is that it goes beyond big-shot customer reviews. It also includes the testimonials of regular Joes and the star ratings they gave via the G2 crowd.
With its Request a Demo button underneath, this testimonial page is one example of maximizing customer engagement.
mHelpDesk
Customers herald mHelpDesk as the best field service management software. With this product, you can organize your company through invoicing, dispatch, and scheduling, among many other things.
mHelpDesk is a prime example of how a company should use video and text testimonials. After all, its first five reviews use video, including a short quip from the clients.
The next testimonials, on the other hand, make use of pure text content. While these may seem like boring blog posts, there are CTAs, like "Try it Free" or "Request Live Demo," in between.
As with most testimonial pages, mHelpDesk ascertains its legitimacy through its star ratings. With its badges coming from Capterra, TrustPilot, QuickBooks, and Software Advice, each customer is assured of brand and product quality.
HotJar
HotJar is a company that offers behavioral analytics tools and website heatmaps. Every customer testimonial is chronicled as a case study, with each brand getting its fair share of exposure.
Every company has its dedicated page, complete with details and benefits of the HotJar product. Although each testimonial is comprehensive, there are no videos. This can be a bummer for those who like to learn more about the product visually.
Despite this lack of video, the HotJar testimonial page has its unique way of alluring the customer. With its organized layout and minimalistic design, it's a great example of what your clients need to see.
How to Get Testimonials from Customers
As with most things on the web, the saying, "The more, the merrier," applies to customer testimonials.
Statistics show that you can enjoy a 4.6% increase in conversion rate by having 50+ reviews per product. Having 10+ reviews for your business, on the other hand, can improve your traffic by 15% to 20%.
Taking a cue from the customer testimonial pages above, it's time that you got started with your page right away!
Here are some tips that can help you obtain text and video reviews for different products:
Send an email reminder
Send an email reminder to your customer 5-7 days after the product purchase. While you can do this manually, you can automate this with the help of a Shopify app.
To get as many reviews as possible, make sure to incentivize your client. For example, you can give a discount or small reward with every completed testimonial.
By doing so, you'll have a better chance of engaging with every customer.
Send a customer satisfaction survey
With Shopify's email automation tools, you can send customer satisfaction surveys and obtain insights about your products.
Should you decide to do so, make sure to ask the following questions:
Why did you buy the product?
How is it different from the others?
Do you have any questions or issues with the product?
To learn more about your products, remember to formulate open-ended questions. This way, you extract as much social proof as you can.
Download Shopify apps
Apart from automating the email and survey sending process, Shopify apps can also help you create a customer review page.
The best tools to use for this are Shopify Product Reviews, Loox, Yotpo, and Stamped.io.
Conclusion
Text and video testimonials are essential additions to your Shopify page. Not only do they build authority and generate sales, but they help improve your SEO rankings as well.
With the help of Shopify apps, you can create a useful customer review page by drawing inspiration from the best testimonial sites. Such examples include Help Scout, HubSpot, HootSuite, and of course, Shopify.
Since it is vital to have many reviews, remember to send automated emails and surveys. You can use various Shopify tools to help ease the process.