If you want to optimize your website and catapult it to the top of Google's rankings, tracking your keywords is a no-brainer.
But tracking multiple keywords manually every single day can be a pain in the neck. It is only with the help of a decent keyword ranking tool that you can see if all your efforts are working or if you should overhaul your strategy.
Fortunately, there's AccuRanker—designed to track keywords in your campaign specifically.
What is AccuRanker?
AccuRanker is a cloud-based tool that monitors keywords and websites on search engine results pages (SERPs).
With AccuRanker, you can easily see if you're ranking well on your chosen keywords, saving you hundreds of hours on keyword tracking. The information you'll glean from AccuRanker can also help you strategize how to move your keywords up in SERPs.
To date, more than 20,000 agencies and brands are using the AccuRanker keyword tracker as a choice. These include big names like GroupM, HubSpot, Lego, IKEA, HBO, Toyota, and Nordea.
Why should you choose AccuRanker?
If the list of brands mentioned above isn't enough to convince you that AccuRanker provides a high-quality and accurate solution to your SERP rankings, here's a pretty extensive list of its features and benefits:
AccuRanker delivers fast and accurate data.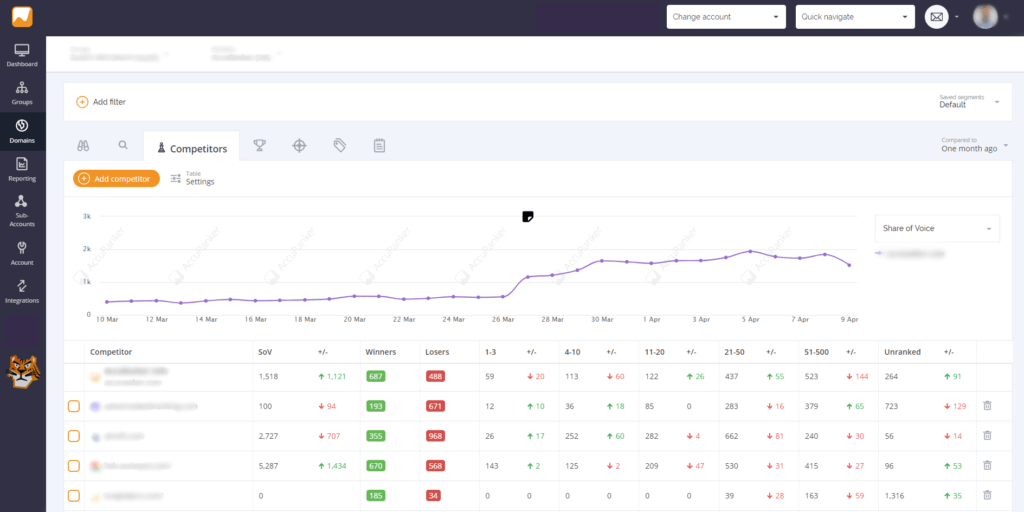 Most keyword trackers give updates every 24 hours. AccuRanker does that as well, but it takes things up a notch by providing you with the option of doing manual updates at any time.
All you need to do is click the refresh button, and voila! You get instant keyword ranking updates!

It only takes 30 seconds to one minute for AccuRanker to give an update for over 100 keywords, making it one of the fastest rank trackers around.
Plus, this feature comes in handy since Google is quick in changing algorithms. You'd want to have a tool like AccuRanker that keeps up to speed with these frequent changes.
AccuRanker is easy to set up and sports a user-friendly dashboard.
SEO tools often have a steep learning curve. But AccuRanker's intuitive and clean interface makes rank tracking a smooth and pleasant task.
When you open your AccuRanker account, the first thing you'll see is the dashboard. It may look simple, but it automatically gives you a bird's eye view of everything you need to know about your website ranking. Bonus points because it does so without looking cluttered.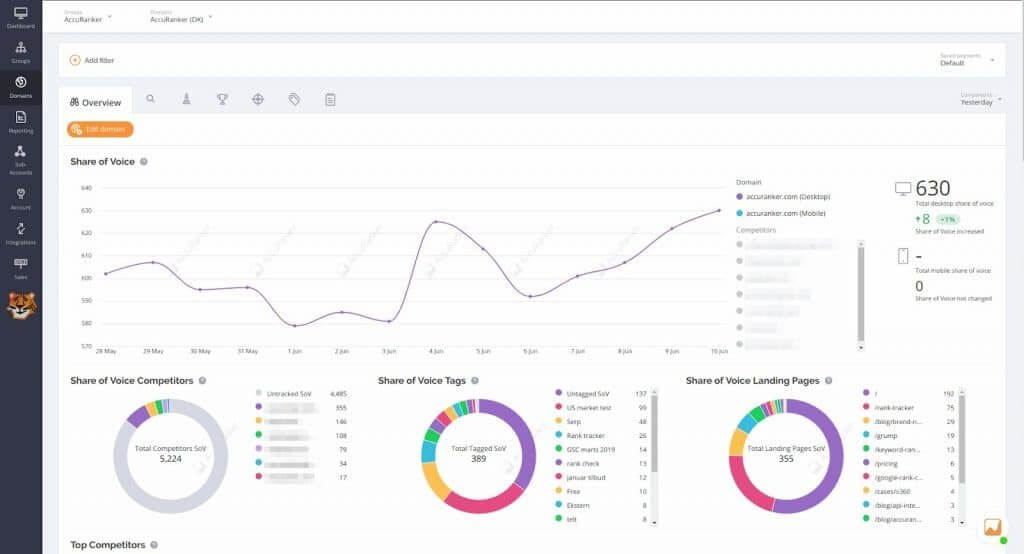 Navigating is a breeze as well, as the sidebar allows you to go to different sections with ease. These sections are:
Groups – allows you to segregate your keywords and move them around as needed
Domains – shows all the sites you're managing in alphabetical order
Keywords – shows you how all your keywords are performing
Reports – generates progress reports any time you want, delivered in different formats like PDF, Excel, and CSV
You have the option to set up tags for your keywords so that you can easily categorize them. It's especially helpful for agencies handling various clients, as it allows them to organize a large number of keywords they're tracking easily.
You can also check both local and global rankings in multiple locations, both in Google and Bing.
It's easy to set up within 10 minutes. Just sign up for their 14 days free trial, add your domain, and input your first keyword to track.
You can integrate multiple apps with AccuRanker.
Need to access your data in other apps? Connect AccuRanker to third-party programs such as:
Google Analytics
Databox
Google Data Studio
TapClicks
Adobe Analytics and more.

Get more in-depth keyword analysis when you combine AccuRanker with Google Analytics. It can tell you the estimated visitors per keyword and even tag cloud date for more advanced users.
Connecting it with Google Console allows you to import your keywords easily.

You can also export your data in Google Sheets using different file formats.
Only AccuRanker has the Share of Voice feature.

One of AccuRanker's distinct and extremely valuable features is Share of Voice (SoV). It's a metric used to track your top keywords based on monthly searches and rankings, giving you a clear picture of how they're performing.
How does AccuRanker do this?
Here's a quick rundown:
It takes the clickthrough rate of ranks 1-20, then multiplies it with monthly search volume.
The result accurately shows if your high-traffic keywords are losing or gaining positions.
Knowing this information allows you to strategize how to keep your keyword rankings high.
And though SoV is unique to AccuRanker, it's so easy to understand that even people clueless about SEO in your team can interpret the data.
AccuRanker checks your ranking distribution.
Another feature of AccuRanker is ranking distribution, which appears as a graph in your dashboard. AccuRanker takes all the keywords your website is ranking for and divides it into six groups based on rank.
Aside from giving you a broad overview of your keyword performance, the graph will also show you which keywords are moving up or down.
AccuRanker monitors Google's algorithm changes.
AccuRanker also tracks fluctuations in Google's algorithm using the Google Grump rating, represented by a tiger icon on the sidebar.
The tiger has four moods: furious, grumpy, cautious, and chill.
The tiger appears mad when Google's rankings are fluctuating at high velocity, indicating a possible algorithm change. But if everything looks calm and normal, then the tiger would look relaxed and chill. It's a charming touch from AccuRanker.

Since Google's moods affect your keyword performance, it's good to consider the Google Grump rating from time to time.
AccuRanker works for both mobile and desktop.
AccuRanker lets you track rankings on both mobile and desktop for the same keyword at the same time.
It's actually one thing that differentiates AccuRanker from competitors since other free tools will only track your keywords on mobile or desktop at any given time.
You can view accurate historical data in AccuRanker.
AccuRanker allows you to compare rankings by date and track fluctuations based on structural changes or AB testing.
Checking the historical data on the performance of a keyword helps you know if your campaign's going in the right direction.
You can also track your competitors.
Wondering how your rankings stack up against other websites?
Once you pick your keywords, AccuRanker automatically suggests competitors to track. You also have the liberty to monitor anyone not on the list.
AccuRanker creates reports in a jiffy.
Need to create a report of your findings?
Save time by automatically generating detailed reports complete with charts and graphics using this rank tracker.

And the best part is that you can customize your reports with your logo, even if you're only on the cheapest AccuRanker plan. That's not usually offered in the basic plans of other SERP tracking tools.
Simply add your company logo and set a schedule for when to generate reports.
It works great for smaller marketing agencies that need to white label their reports without shelling out a ton of money.
You can track keywords from an unlimited number of domains.
All payment plans offer unlimited domains, allowing you to manage and track multiple websites with a single AccuRanker account.
AccuRanker offers exceptional customer support.
Need help? AccuRanker provides customer support in three ways: live chat, email, and phone support.
AccuRanker's typical response time in live chat is under an hour, so use this function if you're looking for some quick aid.
Take note that phone support is only available to US, UK, and Denmark residents.
How much does AccuRanker cost?
Before you start paying for AccuRanker, test it out first using its free 14-day trial to see if it fits your needs.
Its payment plan starts at $71/month for 1,000 keywords, paid annually. That's only 7.11 cents per keyword—less than half of other SERP tracking tools, making it one of the most affordable ones in the market. The cost per keyword can go down as low as 2.25 cents for the highest subscription plan.
You can either go for a monthly or yearly plan, but you can save up to 20% if you go for an annual plan.
Entrepreneurs and small business owners can already get the bang for their buck with the cheapest subscription since it already sports all features. The only difference is the number of keywords you're allowed to monitor.
You can downgrade, upgrade, or cancel anytime at no added cost.
Here's the complete pricing tier for annual plans:
$71/month for 1,000 keywords
$89/month for 1,500 keywords
$116/month for 2,000 keywords
$161/month for 3,000 keywords
$197/month for 4,000 keywords
$224/month for 5,000 keywords
$359/month for 10,000 keywords
$494/month for 15,000 keywords
$629/month for 20,000 keywords
$764/month for 25,000 keywords
$899/month for 30,000 keywords
$1,034/month for 35,000 keywords
$1,169/month for 40,000 keywords
$1,349/month for 50,000 keywords
$1,529/month for 60,000 keywords
$1,709/month for 70,000 keywords
$1,979/month for 80,000 keywords
$2,159/month for 90,000 keywords
$2,249/month for 100,000 keywords
What to Consider Before Signing Up AccuRanker Tool
Here are two things you need to consider before signing up for this tool:
Just be mindful of how keywords are counted since a keyword tracked on your desktop and mobile equals two keywords—tracking it on two different locations on both devices counts as four different keywords. So, make sure that you pick the location or device that matters most, especially if you only have 1,000 keyword searches a month.
Also, keep in mind that AccuRanker is laser-focused on keyword rankings, not on other aspects of your SEO. You still need to invest in other SEO tools to get the complete picture, although AccuRanker allows for integrations, so it won't be hard to compile all your SEO findings in one place.
AccuRanker may not be the ultimate SEO tool, but it's the only tool you need if you want to monitor your keyword rankings and deliver better results and conversions.