How an online course provider increased organic traffic by 3X over 12 months
Google rankings play a major role in consumer buy-in – so when an online course provider saw its Google rankings sinking, they knew they needed to take action.
The Company
The online course provider had enjoyed steady growth for nearly seven years, with thousands of students enrolling.
Then suddenly, the company's rankings plunged, their leads dried up, and conversion rates fell.
They realized they needed expert help to salvage the business they had worked so hard to grow.
On the financial brink, Joe hired SEO Leverage to reverse the decline and restore his search engine rankings. Their core objective was to regain their organic traffic and convert leads to sales.
"After having been on an upward trend for months and years, suddenly within one or two days, you're nowhere and pretty much out of business. It is not an easy thing to accept."

The Problem
Google had updated its algorithm in December 2019, then again in June 2020. Both updates hit the online course provider hard: their rankings plummeted by 73%.
The online course provider reviewed their metrics and concluded the rank drop had decreased their traffic and halted new lead generation.
Their revenue stream had slowed to a trickle.
This is what their traffic looked like when compared to the previous year. Absolutely devastating, right?
Campaign Summary
SEO Leverage built a four-pronged SEO campaign to resolve the problem.
1. We looked for the cause of the decline, suspecting it resulted from the Google update. We also had to ensure that none of the online course provider's actions – such as structural changes or migration – had played a role.
2. After SEO Leverage confirmed there were no missteps on the client's end, we conducted an SEO deep dive audit. The 360-degree audit combed through everything relevant to the company's website – from user experience to speed to content.
"Usually, an SEO audit takes ten business days. In this case, we saw a very severe situation. So, we speeded this up. I think it probably took us five or six days."
3. We checked backlinks to see whether the company had been targeted by negative SEO attacks. This tactic – whereby unrelated links point to the target website – is frequently used by competitors to confuse the search engine.

After some analysis, we found out that the overall penalization risk was extremely high – however, the links were so obviously put there on purpose that we did not think they were affecting the site's traffic at that point in any way.
Google could easily see they were automated and created with harmful intent. As such, Google would most likely ignore them directly, which is why we quickly focused all our attention on the site audit.
4. Finally, we examined Google's new preferences following its update. We compared our findings to the online course provider's website content.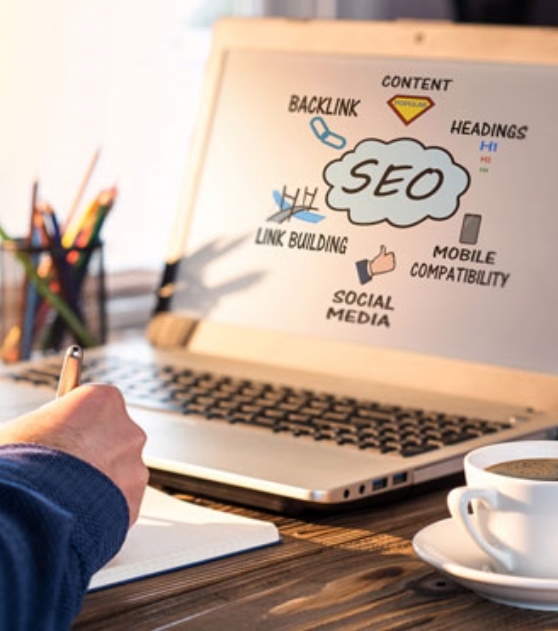 The Solution
We concluded that negative links hadn't caused the ranking drop. The culprit was the site's user experience: it no longer aligned with Google's updated ranking factors.
We then implemented a two-part strategy to get the online course provider back on track:
1. Revamped Website Design
The website's original structure took too long for users to view the content they wanted. So we completely restructured the site to give users quick content access.
2. Improved Performance Optimization Speed
Fast load times are critical to website success. The online course provider's website – particularly for mobile phone users – was slow.
We increased the company's website speed by reducing the number and size of images. We also added more internal links.
THE RESULT
The impact of the strategy quickly became evident.
Within three weeks, we overcame the online course provider's 70% drop in Google rankings. The organic traffic jumped from 2,000 to 8,000.

The SEO Leverage Difference
We took the company's retooling one step further by switching them to ERICA consulting. This system keeps companies ahead of the curve by reviewing and updating their SEO strategies every two weeks.
This allowed the online course provider to track conversions, detect which rankings showed early warning signs, and compare its site to competitors.
It also helped them determine which ranking could reach page one – and helped them land there. They increased their lead magnets from two to twenty, and they now enjoy regular page one ranking.
The ERICA framework had a powerful impact on the online course provider's growth.
Within eight months, their conversions nearly tripled – sometimes reaching up to 18%. Just one year after hiring SEO Leverage, their organic traffic now stands at 24,000 monthly visitors.
Here's what happened:

Our friend did it again – he doubled traffic by following our outlined principles of internal linking and a consistent approach to CTR optimization (aiming for getting more clicks from Google maintaining the same rankings).
As a bonus, they've added five members to their website team to handle all that new business!
"It was really rewarding for us to help a business not only survive but also really grow with conversions skyrocketing only through organic traffic."
Summary
It's been a great pleasure working with Joe (I'll stick to that name). We still get together every two weeks and streamline the effort – he's at about 20K visitors/day (organic) now and now knows that the actual ceiling for his organic traffic is much higher (maybe around 60-100 K per day. We'll happily guide him on the way!
If you'd like to see what we can do for your site's growth, let's have a chat! Send me an e-mail to [email protected] or claim a quick audit right now.